Sedimento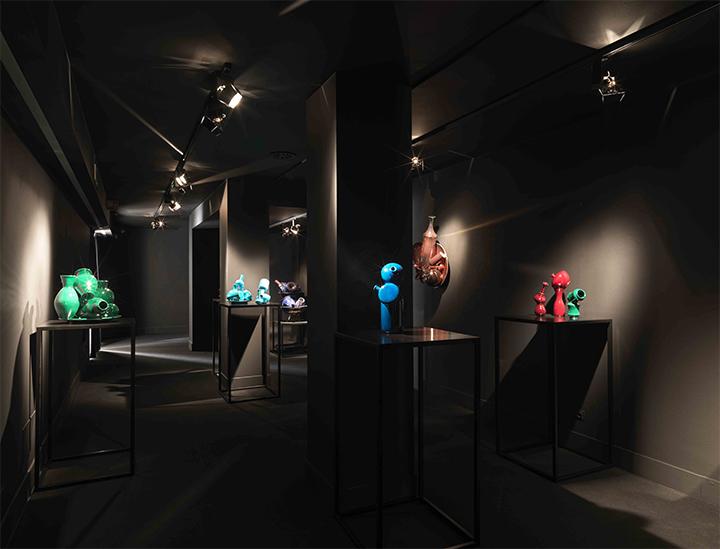 A tribute to the long-term collaboration between two entrepreneurial realities with affinities of geography and vision. This is the central focus of the exhibition at the Visionnaire Wunderkammer during Design Week in Milan. The dialogue between Visionnaire and Andrea Anastasio, curator and artistic director of bottega d'arte Ceramica Gatti 1928, has led to "Sedimento", paying homage to the extraordinary legacy of craftsmanship found in the Italian territory, combined with creativity and reflection with a contemporary viewpoint.
History, in the succession of dates and events, is also a parade of forms, containers, vases that bear witness to the passage of fashions, customs and activities. The art of ceramics is a repository of this gigantic archive, and the works contained in "Sedimento" allude to this heritage, delving into its depths to discover compositions and new forms.
The crystals used in glazes reflect an age-old tradition of ceramics, and link the individual forms of pottery, all found in the archives of Bottega Gatti in Faenza. Color takes on a structural function, no longer merely a decorative feature. The groupings reveal unexpected balances between objects from different periods, with various functions, and seem to create new ones, while symbolically evoking the domestic gestures that punctuate the everyday flow of life. The "sediments" include wall-mounted works, reminders of the grotesques that adorn patrician villas and Renaissance palaces. "Sedimento" also embodies a free approach to the archive of a historic workshop, a dynamic way of reinterpreting it, liberating it and shifting it into the contemporary context.
CERAMICA GATTI 1928
Founded in 1928 by Riccardo Gatti in Faenza, the Bottega d'Arte Ceramica has always stood out for intensive research on innovative techniques and languages, and for its variegated production of one-of-a-kind pieces. The distinctive features of the workshop's activity over time are a handmade approach to the entire production cycle of majolica, and the interaction with artists and designers, which has become more and more fertile, enriching the background of knowledge of the craftsmen as well as their ability to listen and to interpret, fundamental qualities to ensure successful collaboration with creative talents. From the early collaborations with the Futurists to the projects with Bruno Munari, Gio Ponti, Ettore Sottsass, Carla Accardi, Luigi Ontani, Ugo La Pietra, Mimmo Paladino, Alessandro Mendini, Liliana Moro and Stefano Arienti, the list is long and precious, just as precious as the brilliance all these artists have conveyed and continue to exercise together with the ceramists. As a true crafts workshop, Ceramica Gatti 1928 is a versatile company, a place of cultural transmission and values, of interactions between disciplines, viewpoints on reality, passion for the work – a meeting point of different professional roles. The ceramic material, and the skills of the artisans applied to it, become tools of interpretation and accompaniment of the contemporary domestic landscape, with its new daily rituals and equally new human scenarios.