THE PAVONE THRONE AT EXPO 2020 DUBAI
THE PAVONE THRONE AT EXPO 2020 DUBAI
The Pavone Throne returns to participate in some prestigious international stages: presented as a preview in the Visionnaire Flagship Store during the Miami Art Basel in December 2019 and later seen as a protagonist of an installation at the Hotel Faena in Miami, the ceremonial chair – designed by Marc Ange – is a project that celebrates the convergence between art and design. Protagonist at the Super Salone 2020 in Milan and winner of the Archiproducts Design Awards 2020, the Pavone now arrives in Dubai. The throne and the family of armchairs are exhibited in the prestigious Premium Lounge at 2020 Club, in the heart of Expo 2020 Dubai, with a new installation project that can be visited from 19 December 2021 to 14 January 2022.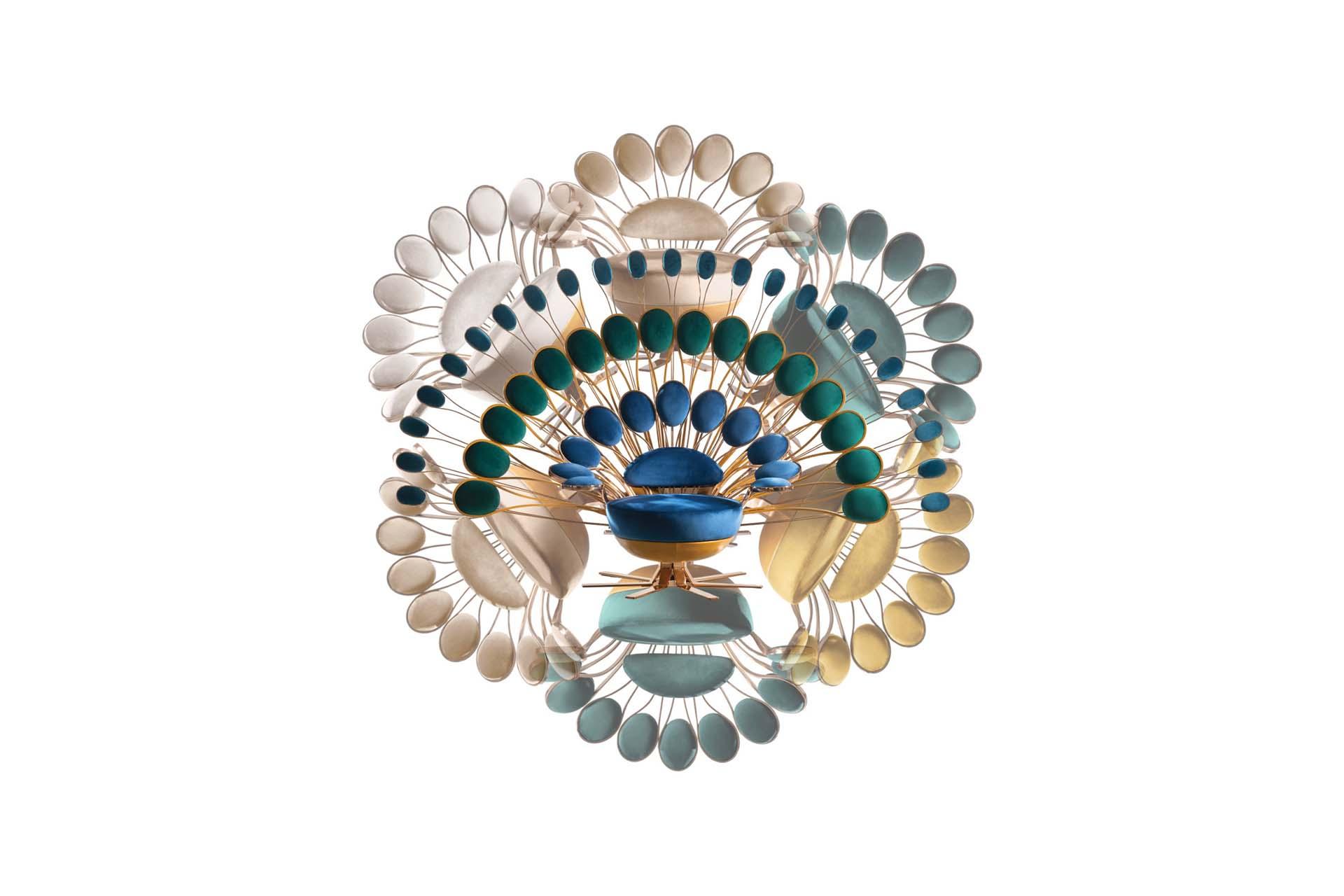 The inspiration for the capsule collection was conceived during the artist's travels to India and the charm aroused by the vision of the peacock; as a consequence, the artist was energized to conduct some deeper researches on the animal's behavior and its fascinating presence. The capsule is an ode to the romantic and seductive beauty of the peacock, only animal that does not possess natural weapons to protect itself and to fight for its survival. However, the peacock chooses to show its tail – noteworthy for its stunning plumage – when facing a danger, as a emblem of its extreme beauty. In consistency with the Designer's tendency for the extraordinary, his interpretation of Visionnaire's world comes to life through an allegorical display of the romantic animal, which to him embodies Visionnaire's unique eye for beauty and meta-luxury.
Leopoldo Cavalli,
CEO of Visionnaire.
"A prestigious milestone to be at Expo 2020 Dubai in a meeting of cultures with a purpose as important as that of redesigning a better future. This seemed to us to be the best context to present a project that speaks of beauty, a concept that always makes our gaze look high and continues to inspire our collections. This capsule is a contemporary allegory, a persuasive message of hope, that deep and pure beauty will save the world".