Darsena del Sale - Cervia, Italy
Darsena del Sale - Cervia, Italy
Contract
The temple of the well-being in Cervia: from dusk to dawn, a unique destination in Europe that offers entertainment, food & beverage, salus for aquam and design.
Darsena del Sale in Cervia, represents a unique destination in Europe, a temple of well-being generated by water which built its identity with water and salt. A project which merges archaeological architecture and predetermined benefits into an essential balance between multifaceted functional areas, respecting the 'genius loci' but with an international relevance of interest transmitted by its uniqueness.
This heritage site located in the heart of Cervia and its canal port, Darsena del Sale sets itself a goal of becoming a true epicenter of well-being with a unique, unprecedented service and state-of-the-art, low emission structure and becoming the first destination on the Adriatic catering the nautical tourism. A new Agora of culture and beauty, a space inspired by mindfulness, where each individuals' comforts are the center of attention all year.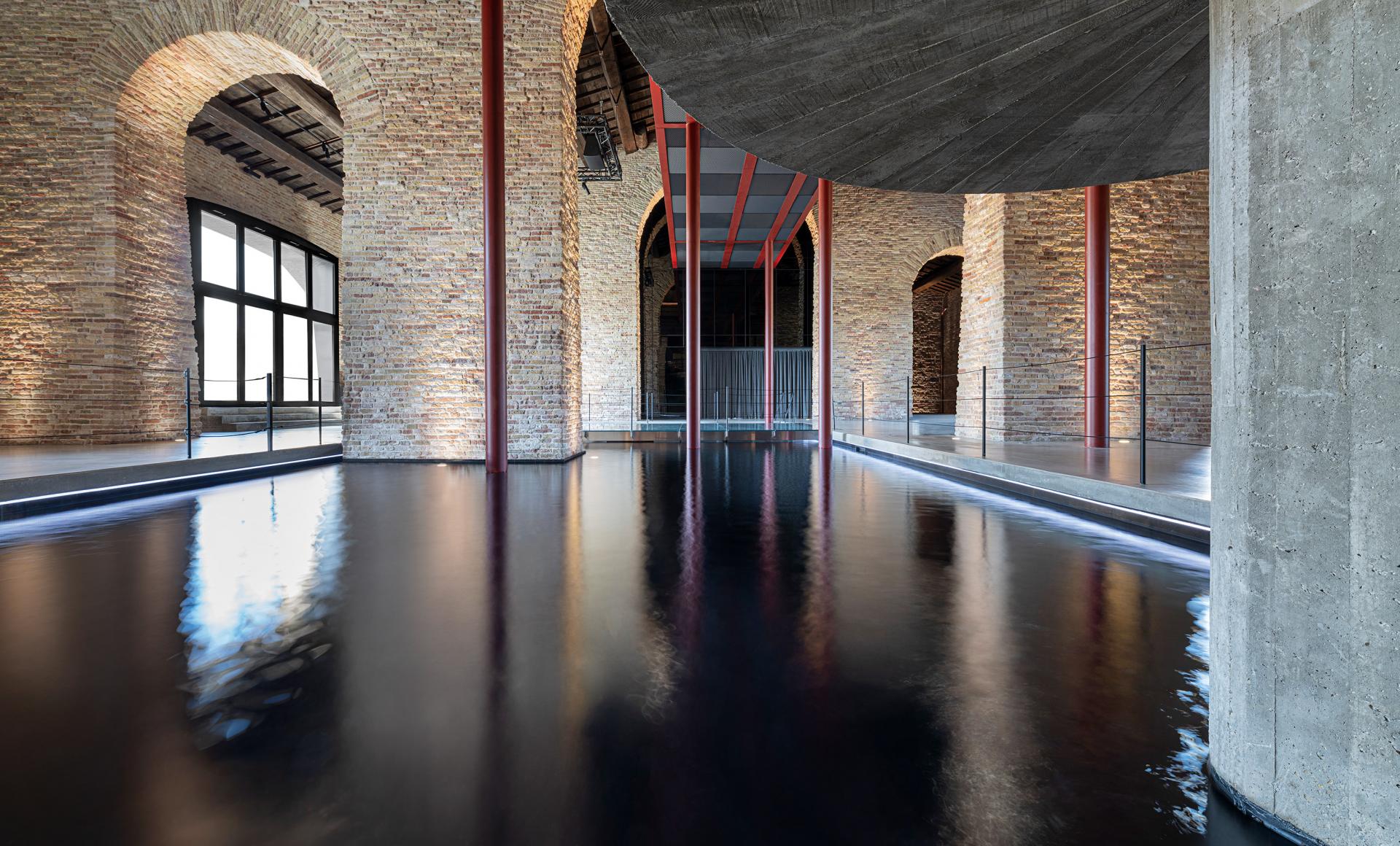 Music, events, food, wine and SPA are the main elements that define the DNA of this destination. A location situated on a total area of over 20,000 square meters which includes an external and internal area, gracefully divided on three floors, where water and salt inhabit both spaces and become true protagonists of the story and experience in itself.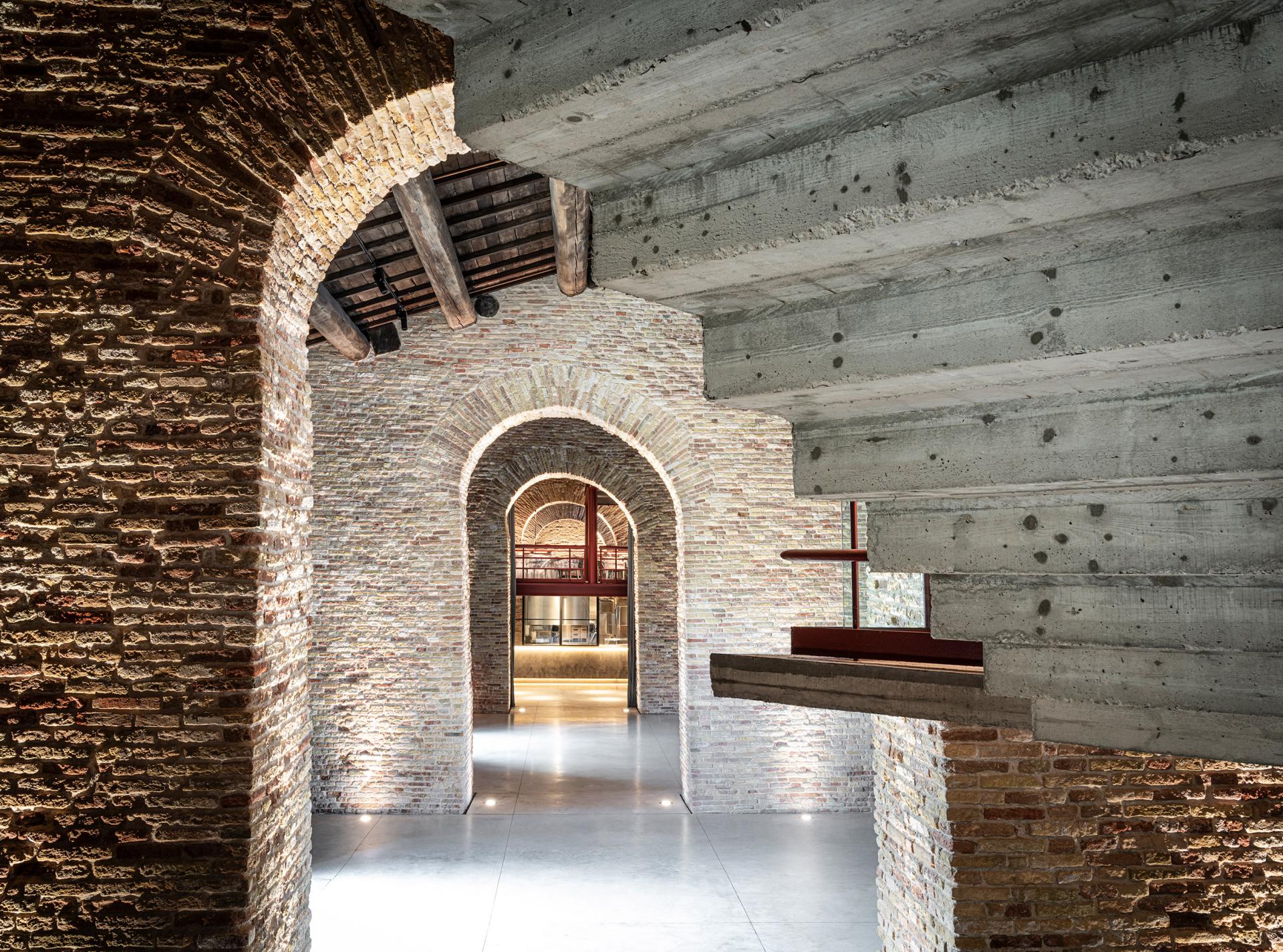 The Magazzino del Sale in Cervia is a testimony of industrial archeology established in early 1700s which was then revisited in the 1980s by architect De Carlo with a project to restore and transform the Warehouse within the naval museum connected to the nearby Darsena.
The intervention, commissioned by the Municipality of Cervia, financed thanks to the operational program of the European Regional Development Fund and a huge contribution of an entrepreneur linked to the territory - Leopoldo Cavalli - who personally committed himself to reviving the site with an extraordinary charm.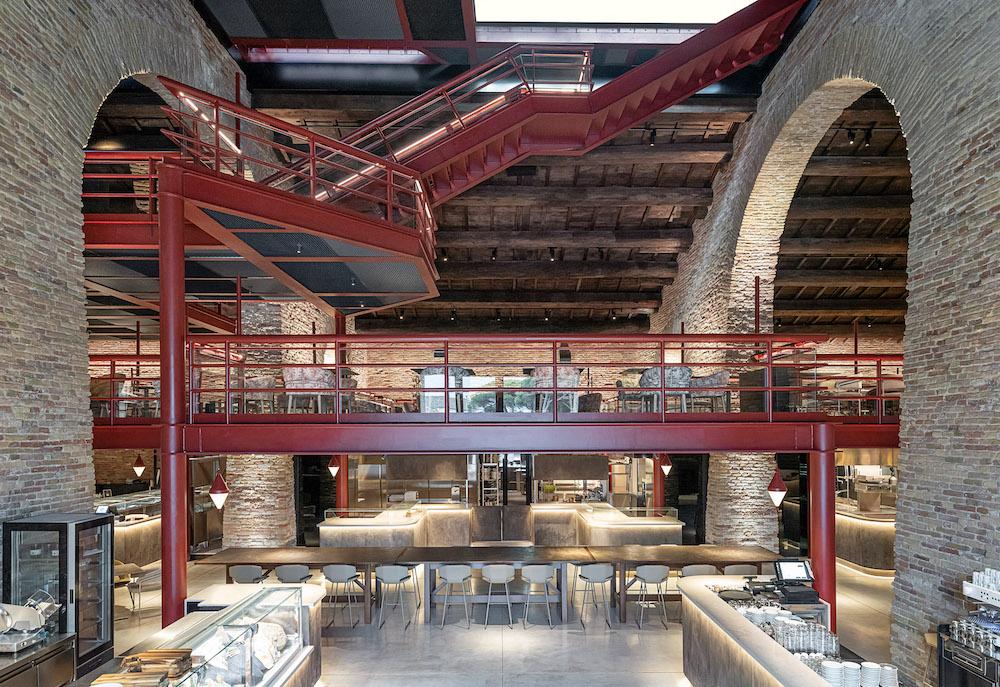 Leopoldo Cavalli won the European tender that was then entrusted to architect Fabrizio Fontana, who was foreseeing the reinvention of over 20.000 square meters of surface, composed of Piazza dei Salinirai, a stretch of canal between the mobile and Via Cavour bridge, Darsena with its green surroundings and ex storage space of salt with an internal space of over 3000 square meters.
Passion and culture for excellence, a melting pot of knowledge and experience, Darsena del Sale empowers the collaboration of prestigious Italian partners: "Fonoprint Group" which is the mandating agent that was awarded the concession, Visionnaire who, with their own lifestyle approach has created an unique interior scenographic atmosphere, Nuage and Beauty Line with their expertise related to Salus for Aquam and Areadocks completing the gastronomic philosophy.
                                                                           SCENOGRAPHY OF THE SPACE
The creation of these inspirational scenographies of Darsena del Sale has been entrusted to Visionnaire (visionnaire-home.com), a renewed meta-luxury brand in international design able to create one-of-a- kind design solutions and a bespoke approach to provide unique and personalized objects. Darsena del Sale is a destination that Visionnaire has interpreted with a sophisticated taste, fully comprehending nature and local history. This collaboration represents an important milestone for the brand within the 'Contract' sector focusing on nautical, luxury hotels and HORECA projects globally.
Eleonore Cavalli,
Art Director & Co-Founder.
"A project, like the Darsena is capable of creating emotions and generating profound sensations for visitors while silmutaneuously providing a regenerating function. For Darsena we redesigned numerous areas of the former salt factory, starting from the suggestive "Sala dell'Acqua" on the ground floor, to the restaurant and lounge areas, piano on the first floor and the Beauty-Spa, paying great attention to the choice of furnishings that is in harmony with De Carlo's architecture and materials, designed for contract use in a saline environment. We paid a particular attention on the choice of materials, focusing on fabrics that had a dual indoor / outdoor function and metals with special powder coatings."
The selection of furniture includes numerous models of chairs, stools, dining tables, low tables, including the iconic Mercury sofa, a re-edition that was presented in 1961 for the first Salone Del Mobile in Milan and the Pavone art design armchairs designed by Marc Ange, exhibited for the first time at Art Basel Miami 2019, as well as a spa collection in the salt walk, that can be found in the so-called "lantern".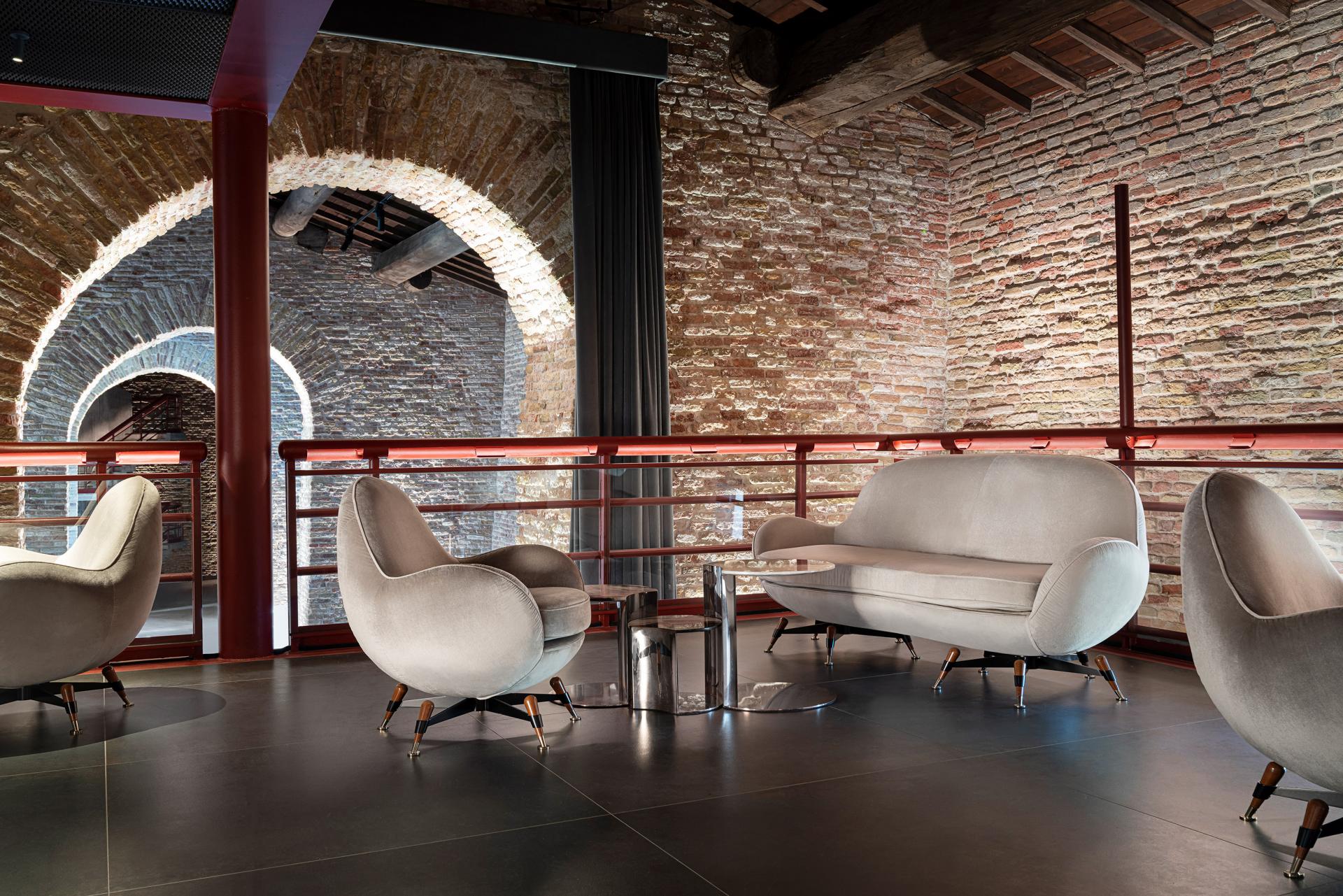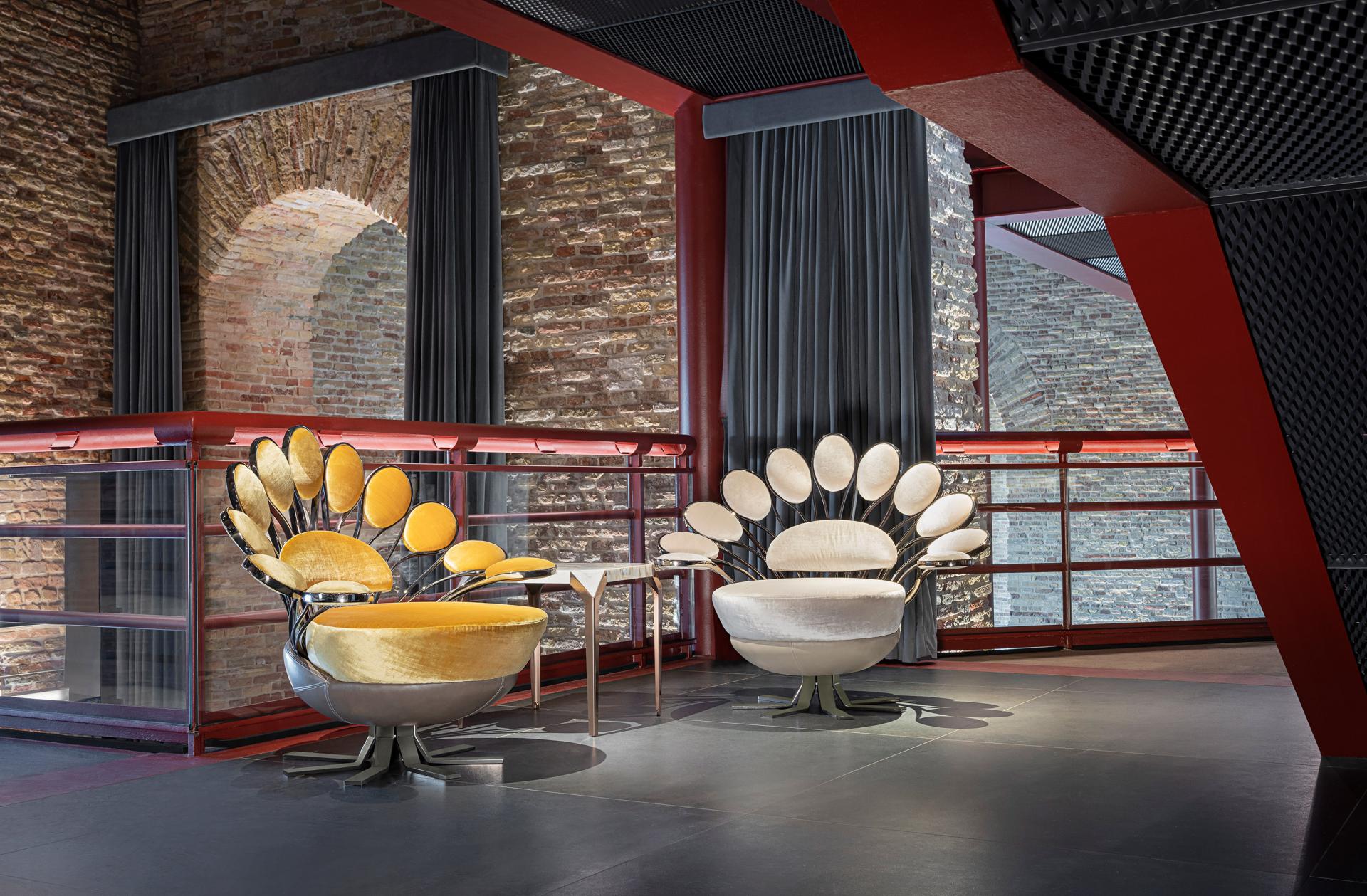 ENTERTAINMENT
Deus ex machina entertainment in Darsena del Sale is the Fonoprint Group, that make up the historic recording studio and record label Fonoprint Records (www.fonoprint.com), EffettoViola and its neurostimulations for relaxation (www.effettoviola.eu), the Theater of Celebrations and the EuropAuditorium Theater. Fonoprint Group is in charge of creating all events and shows: from concerts to performances, live performances of artists and theater companies, who will be able to perform during the summer season on a wonderful floating stage located under the San Michele Tower that has a capacity of up to 2000 seats, in a natural setting of rare beauty overlooking the canal, the salt pans and planted gardens of the Darsena.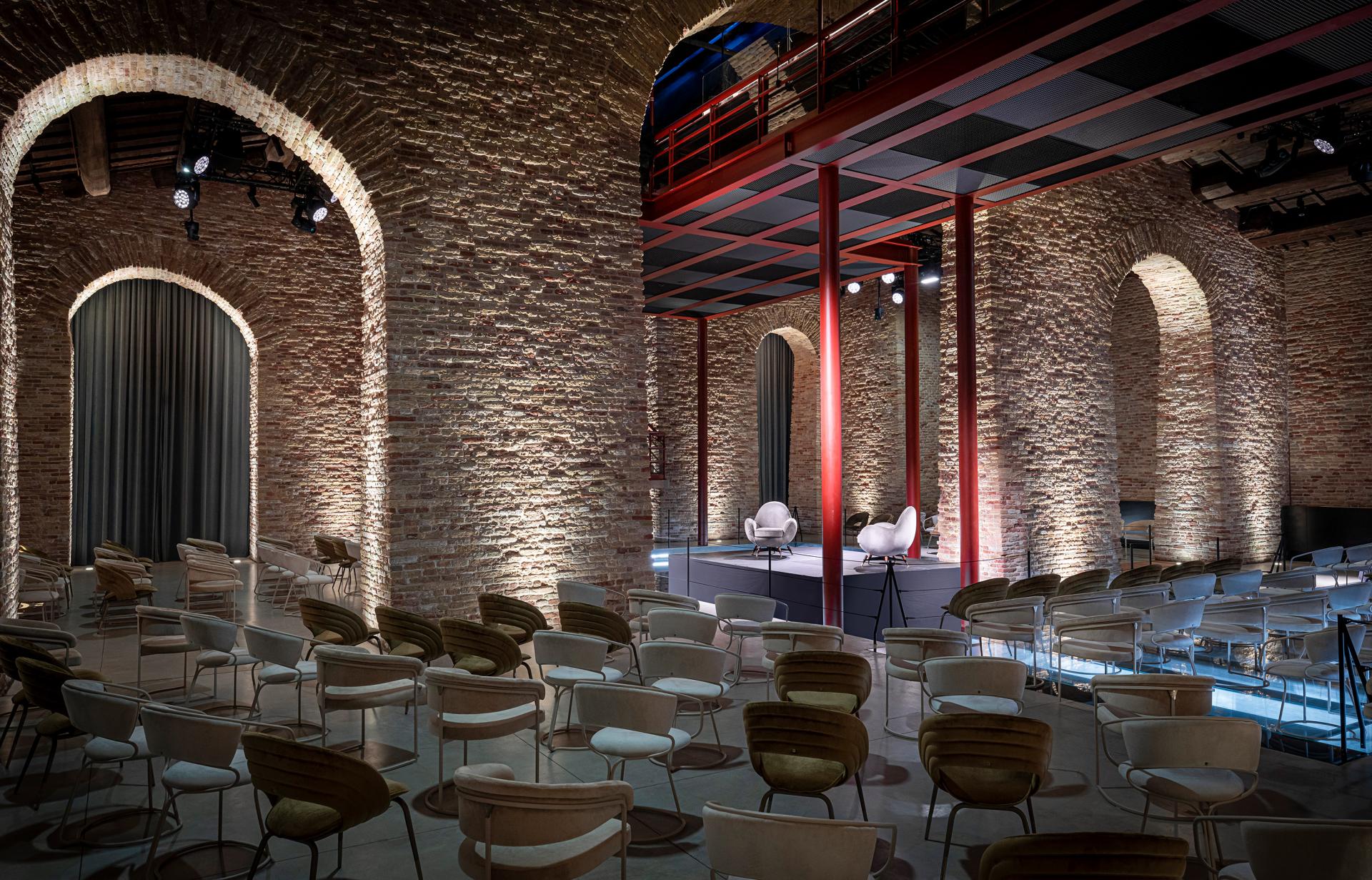 SALUS PER AQUAM
Wellness is the center of Darsena del Sale's philosophy and that is why the recreation area is highly regarded. Darsena del Sale - Beauty Spa, spaced out on four levels, occupies a total soundproofed area of over 600 square meters, where the third floor is the most impressive with La Via del Sale, a therapeutic regenerating pathway, the most unique in the world, a real thalassotherapy walk on a bed of salt in Cervia, at controlled and differentiated temperatures, with a 360 ° view of Piazza dei Salinari, on the Canal, San Michele Tower and on the Gardens, as well as a breathtaking vertical view of the evocative architecture of architect De Carlo, thanks to an attic made partially of glass that allows you to perceive the height and depth of the building; an authentic area of decompression, relaxing and herbal tea area accompanied with the EffettoViola (www.effettoviola.eu), which is already present in Trenitalia on the Frecce portal and in several large Italian companies.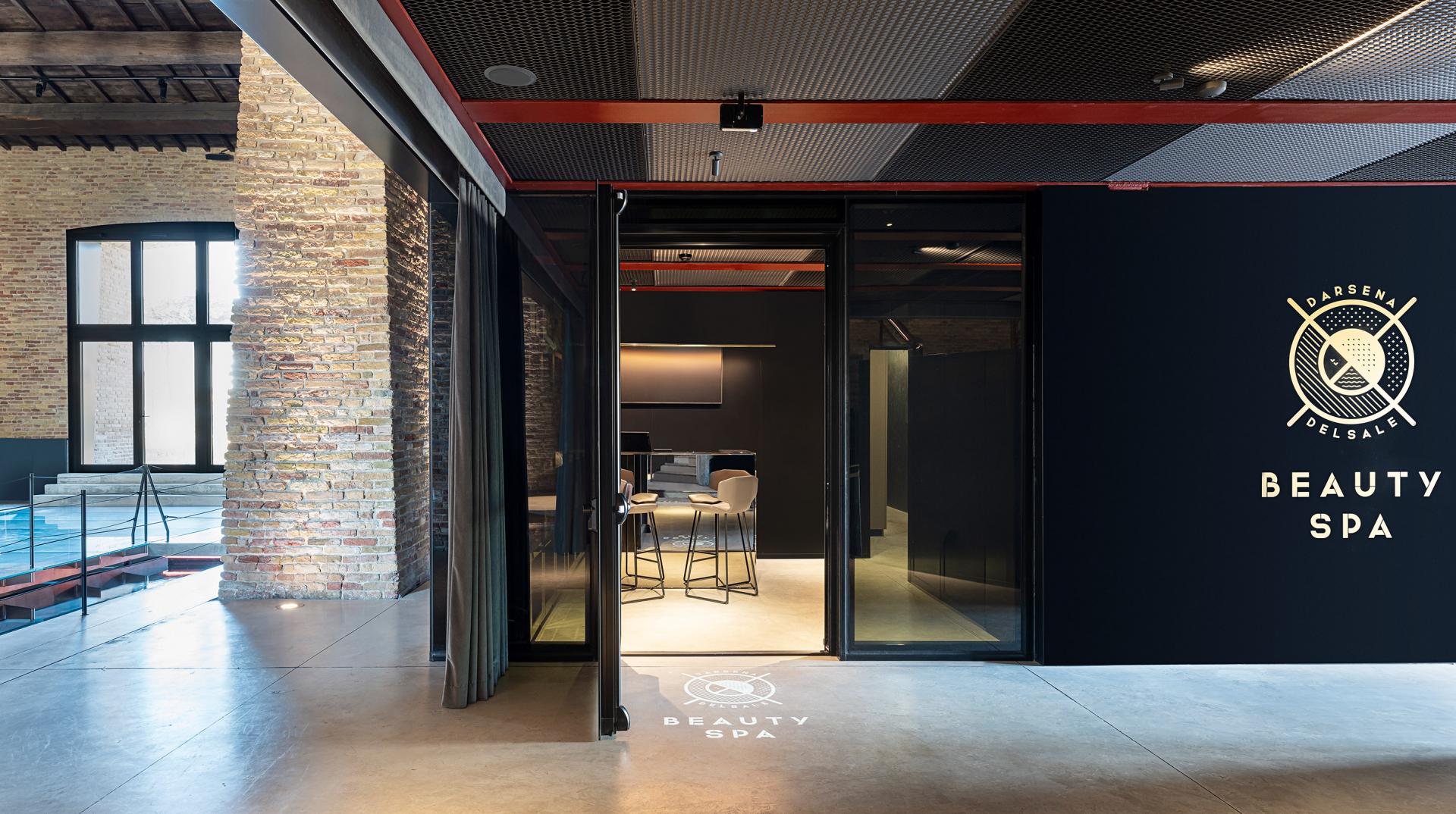 Technically advanced treatments tailored for body and spirit, cryotherapy, floating meditation, emotional saunas and hammams, remodeling of the body and elimination of blemishes through the new concept of laser therapy, anti-aging treatments through non-invasive technologies and natural protocols, as well as a system that accompanies each visitor with an "immersive comfort" of rare acoustic sounds throughout their experience of this extraordinary project by Salus per Aquam in Darsena.
The SPA is managed by the professional team of 'Linea Beauty' who don't only manage but also develop and distribute a salt-based cosmetic line called 'Darsena del Sale' using the local salt of Cervia.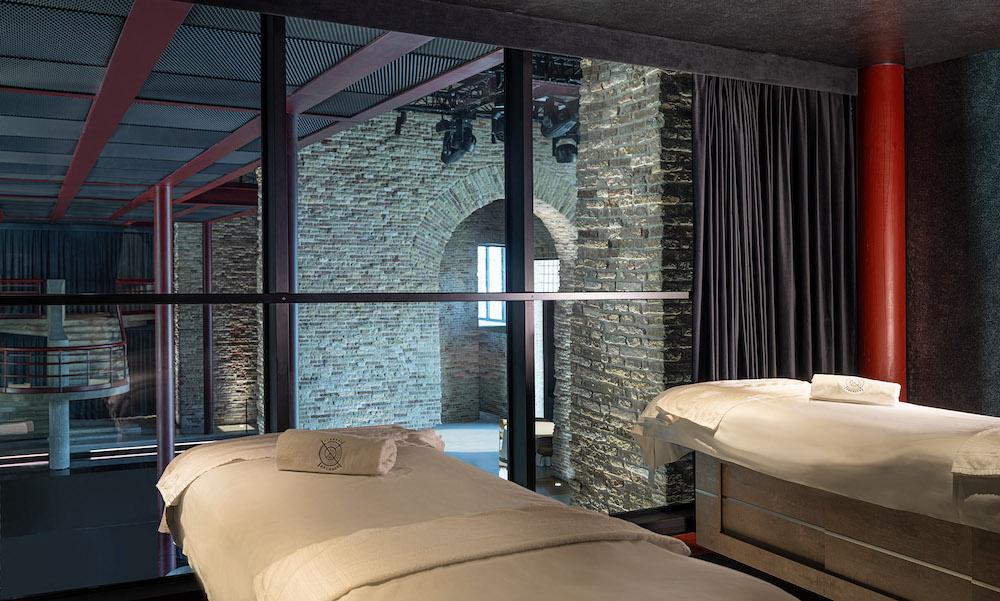 RESTAURANTS
In Darsena del Sale there is a gastronomic laboratory that offers a 360 degrees culinary experience ranging from Mediterranean cuisine to gourmet pizza, steakhouse and pâtisserie carefully selected by Areadocks (www.areadocks.it) 150 seats on the ground floor in the Sala dell'Acqua for the most sophisticated menus, at the social table for more informal moments, in the first floor dining area of the Terrace on the water, with a large variety and selection for brunch, breakfast and a cafeteria with a capacity of 100 seats, the private area dedicated to more intimate gatherings with 10 seats, for a total of over 300 seats for the internal area, in addition to 200 seats in the external perimeter of the building.
The Gardens of the dock adjacent to the church of Sant'Antonio will host a catering project dedicated to Street Food, adding another 150 seats with the national non plus ultra and international take away: from hamburgers to seafood sandwiches, Chinese bao or kebabs, flatbread or fried chicken. Key focus is always the psychological wellness and happiness: the menu of Darsena del Sale follows specific guidelines. A gastronomic offer developed by a team of nutritionists, led by dr. Ferdinando Giannone, is also dedicated to those who are following a special diet. A culinary education proposed and addressed to each individual to better understand how to eat in order to live longer and healthier. Beverages are also valued in each of the four rooms that are divided into cocktail and wine bars.
www.darsenadelsale.com
Photo Credits: Lorenzo Pennati.