MAD ARCHITECTS' GARDENHOUSE IN BEVERLY HILLS
MAD ARCHITECTS' GARDENHOUSE IN BEVERLY HILLS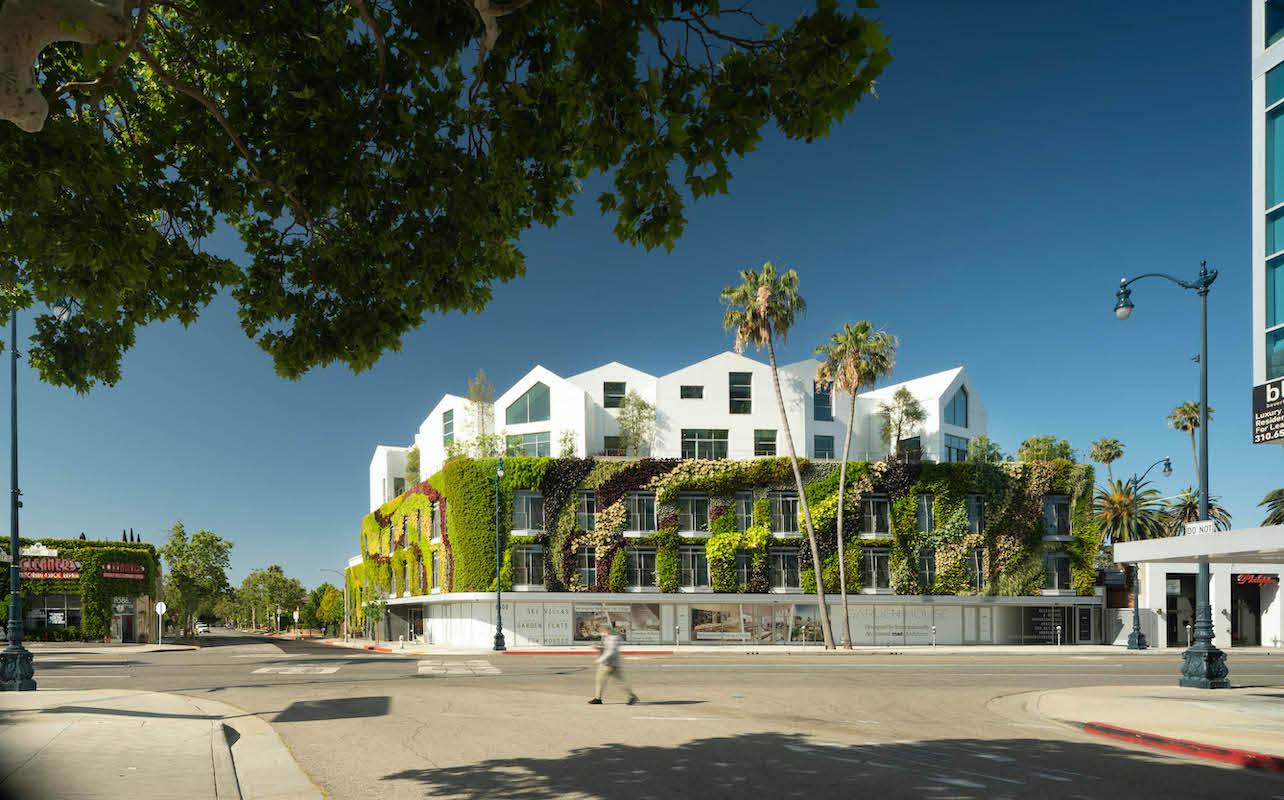 Image by Nic Lehoux 
MAD ARCHITECTS' GARDENHOUSE IN BEVERLY HILLS PARTNERS WITH VISIONNAIRE TO PROVIDE FULLY FURNISHED TURNKEY RESIDENCES
The Modern-Day Hillside Village Featuring the Country's Largest Living Wall Unveils Four Decor Offerings by Visionnaire
BEVERLY HILLS, Calif. – November 23, 2020 – Gardenhouse, the much-anticipated architectural debut in America by world-renowned Ma Yansong of MAD Architects, today announced a partnership with Italian lifestyle design brand Visionnaire to provide a turnkey solution for buyers who want to effortlessly move into one of Gardenhouse's fully-furnished Sky Villas, Row Houses or Garden Flats. Also today, Gardenhouse, a new community that reinvents the essence of Beverly Hills in a modern, contemporary form, unveiled the first look at Visionnaire's curated decor and furnishings available to buyers. 
"Visionnaire's approach to sustainable design along with the furniture designer's sophisticated sensibility with refined modern, sculptural, and versatile furnishings meets the specific needs of our discerning buyers at Gardenhouse," said Ken Simpson, Vice President of Palisades, the developer of Gardenhouse. "We are delighted to partner with such a respected lifestyle brand and to be able to offer a total turnkey solution and their efforts in creating an effortless personalized living experience."
The curated and cosmopolitan furnishings offered through the Gardenhouse and Visionnaire partnership include four different designs: Garden Flat Collection One & Two, Row House Collection and Sky Villa Collection — each giving priority to the juxtaposition between indoor and outdoor living and with the furniture being specifically chosen to enhance the shape and design of each room, improving and exalting the space.
Gardenhouse and Visionnaire Interior Decor Collection Highlights include:
Garden Flat Collection One features a casual-chic aesthetic, punctuated with poppy flower-inspired Camden armchairs that sit alongside a Kings Cross cabinet, coffee table, side table and bar unit. The dining room's Talos mirror amplifies the room's depth and creates balance with the considerable width of the room, bringing in natural light from the window to light the kitchen.
Garden Flat Collection Two is designed to create a beautiful path enhanced by natural references, from the ocean-inspired Conway Rug to the Marty coffee table to the art piece of a beautiful fluttering swan to a metal fishbone hung on the fireplace in front of the kitchen, as well as the Rebel chandelier in steel and pink onyx on top of the round Opera table. This combination is a stage that complements the natural vegetation outside of the window.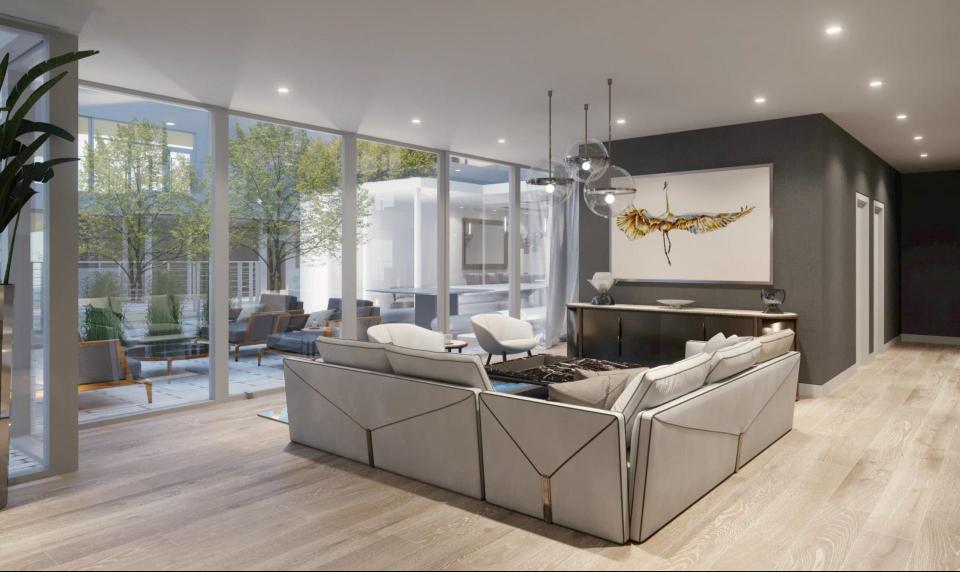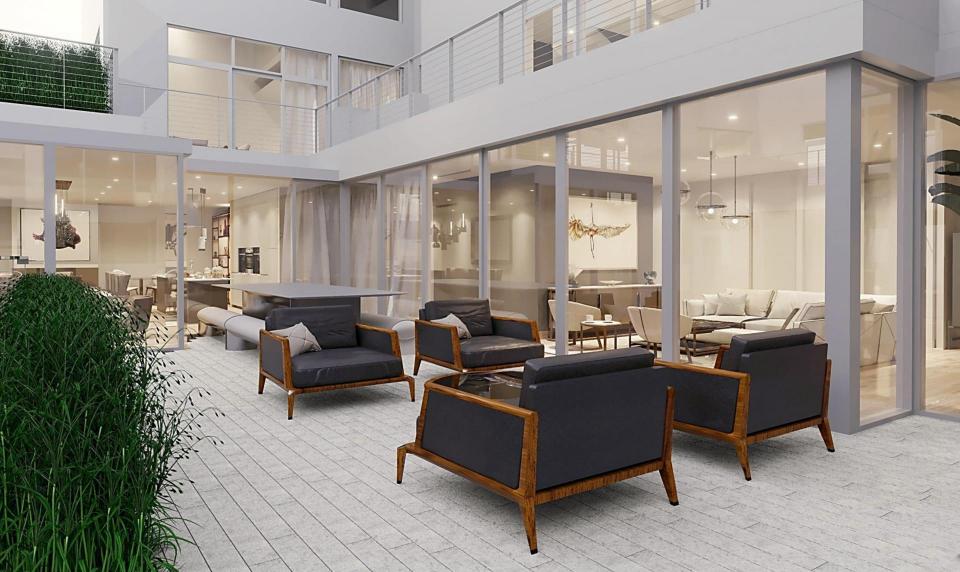 In the Row House Collection, the Beloved Art bed in the main bedroom features a background of the central niche on the headboard. Michele Astolfi's artwork, which contains leaves designed by green mosaic glass and Swarovski crystals is a focal point in this residence.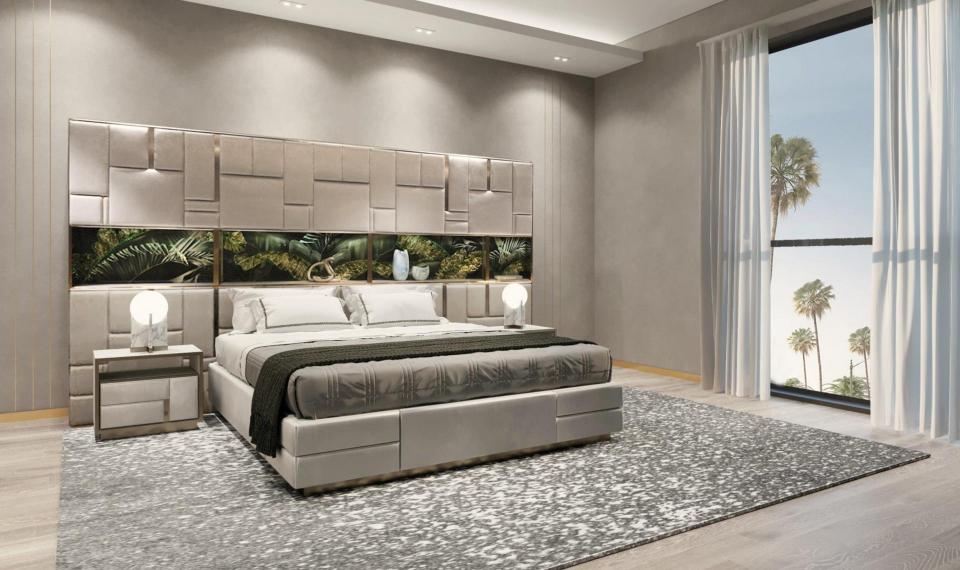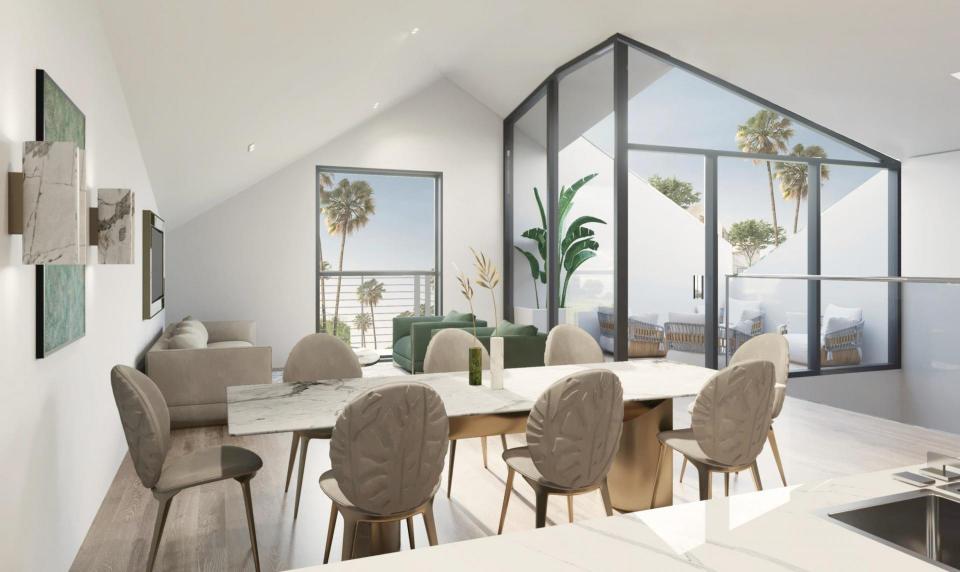 In the Sky Villa Collection, the living room holds the Davis capsule, which balances the verticality of the ceiling with thick vertical quilted sections on the back of the sofa and armchairs, linked with bands in marble.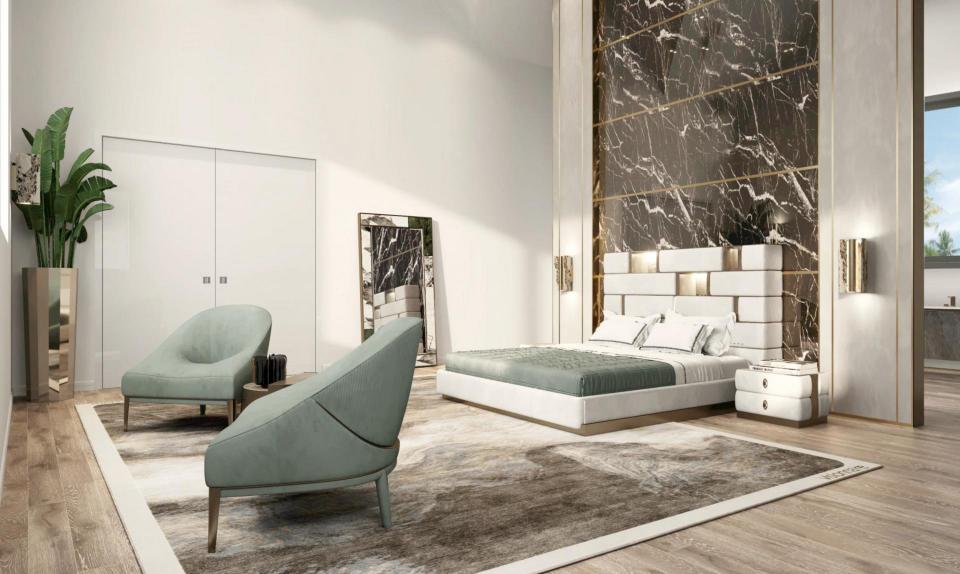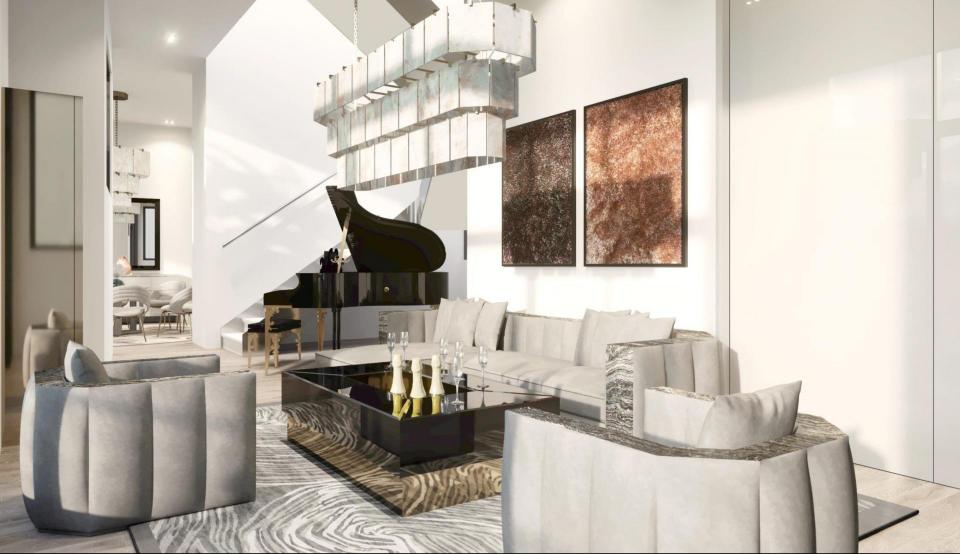 Just completed, Gardenhouse, which has transformed the Wilshire Boulevard streetscape with its "village on a hill" design, features a limited collection of architectural homes encompassed by the largest living wall in the US and encircling a lush central garden atrium. Offering the space and privacy of a signature custom home, each distinct penthouse, residence and townhome draw nature into the living experience with airy, contemporary spaces and barrier-less transitions between indoors and out. The one-of-a-kind design embraces the notion that architecture can connect with landscape and nature to inspire us to live more fully and harmoniously.
With seamless transitions between indoors and out, residents of Gardenhouse enjoy expansive, open- concept floor plans with towering window walls and private outdoor living spaces. Chef-caliber kitchens are equipped with Miele appliances and Italian cabinetry and master bathrooms feature Japanese onsen- style wet rooms with free-standing tubs and radiant heated floors. Each home features direct lift access to a private foyer from the lobby and subterranean parking garage.
The private driveway and covered motor court create a discreet sense of arrival to the building. The lobby, which opens to the sky, surrounds a reflecting pool and leads to the private residences above. The interiors envisioned by Visionnaire pays attention to the importance of creating a respite for homebuyers' hectic lives through absolute quality products married to a rigorous and responsible commitment to the natural environment.
For the Anniversary collection (2019), Visionnaire has set its sights on FSC® Forest Stewardship Council® C147146 and PEFCTM Programme for Endorsement of Forest Certification, the commitment extends the possibility to choose wood from controlled, legal origin, orienting the market towards responsible forestry management.
Visionnaire has ISO 9001 certification since 2011, a guarantee of respect for qualitative management standards, in a wider program of development and valorization of Italian know-how, based on the choice – for six decades – of production entirely carried out in Italy. Wellness and sustainability also translate into the choice of innovative performing fabrics and leathers through recycling logics and a low impact production process, they represent a new technological and sustainable milestone.
Gardenhouse offers three distinct residential collections featuring unique three-bedroom layouts ranging from 2,100 to 3,100 square feet, all of which provide the space and privacy of a custom home while offering the benefits of an intimate residential community. With understated details within the spacious layouts, from custom Italian millwork, soapstone powder room sinks and white oak and limestone floors, each residence delivers style and sophistication. Gruen Associates, who served as both the executive architect and landscape architect for Gardenhouse, worked closely with the designers to bring this architectural vision to life.
Sky Villa Collection
Perched on the upper levels of Gardenhouse, the Sky Villas boast abundant natural light, beautiful gathering spaces, and expansive views across the city. Each of these two-story, three-bedroom residences feature soaring ceiling heights, floor-to-ceiling windows, and custom-designed sculptural staircases connecting lower and upper floors. penthouses. The Sky Villas are appointed with spacious interior living spaces of up to 2,900 square feet that open to generous outdoor living areas and private terraces. The exteriors, clad in a stunning architectural façade of aluminum composite panels, reinterpret the classical proportions of each residence in a contemporary aesthetic.
Row House Collection
An exclusive trio of residences on Charleville Boulevard, the Row House Collection features three-story floor plans of up to 3,100 square feet and private three-car garages directly accessed from each residence's private lift. Adding to the level of luxury are spacious private full-floor master suites, fireplaces, powder rooms, formal and informal living spaces and upper-level great rooms with chef's kitchens and walk-in pantries. Showcasing a seamless indoor-outdoor design, the Row Houses provide a variety of outdoor living spaces, including terraces and balconies and landscaped front entries on Charleville Boulevard.
Garden Flat Collection
The Garden Flats are centered around the outdoor living experience, with a thoughtful balance between vast windows and gallery walls suitable for an extensive art collection. With up to 2,600 square feet of living space, these three-bedroom residences are configured generously on a single level with ample space for dining and entertaining. The interiors transition effortlessly onto private balconies and terraces, which connect to the interior courtyard.
Gardenhouse is centrally located in Beverly Hills, within minutes of the city's most acclaimed cultural destinations. Available residences at Gardenhouse are priced from approximately $3.288 million.
Compass is the exclusive sales and marketing agent for Gardenhouse. For more information, please visit www.gardenhousebh.com or contact sales@gardenhousebh.com or 424.265.4941 to schedule a private viewing.
Visionnaire
Founded by the company IPE, based in Bologna since 1959, Visionnaire is a meta-luxury brand of reference in the sector of interior design Made in Italy, renowned for its one-of-a-kind design prowess tailored to respond to the desires of its clients. The brand operates in over 55 countries, thanks to over 30 exclusive monobrand stores and a network of department store and multi brand showrooms all over the world. Since 2004 Visionnaire has formulated a distinctive style, based on lively experimentation on materials, volumes of unexpected poise and inimitable motifs that reveal the totally Italian background of the company. Thanks to collaboration with a team of eclectic, visionary Italian and foreign designers, the company is an ideal partner for bespoke proposals in residential and contract applications, luxury hotellerie, as well as the yachting and aviation sectors. The brand bases its activity on the value of knowledge and continuing research on the concept of contemporary beauty, confirming its exceptional ability to create design projects and products of outstanding sartorial workmanship, fostering and restoring value to the skills of
local artisans located across the Italian territory.
Palisades
Palisades is committed to an original, design-led approach to crafting expressive and sustainable models of urban living. Based in Los Angeles, the firm brings local expertise, global perspective and a passion for craftsmanship to create built environments in
collaboration with notable designers, trusted partners and an engaged community.
MAD Architects
Founded by Chinese architect Ma Yansong, MAD Architects is a global architecture firm committed to developing futuristic, organic, technologically advanced designs that embody a contemporary interpretation of the Eastern affinity for nature. With its core design philosophy of Shanshui City – a vision for the city of the future based in the spiritual and emotional needs of residents – MAD endeavors to create a balance between humanity, the city, and the environment. MAD has been commissioned by clients of various backgrounds for design in urban planning, urban complex, museum, theatre, social residence, old neighborhood renovation, and artworks. With international projects in Rome, Paris, Japan and Los Angeles, MAD continues to be a pioneer in contemporary art and design.