The Garden of Beauty
Debuting at the Visionnaire showroom during Design Miami and Art Basel, The Garden of Beauty exhibit featured Il Pavone, a capsule collection designed by artist and designer Marc Ange which draws inspiration from the "Bestiary" of the ancient world and the seductive yet fragile beauty of the Peacock.

Celebrating the symbiosis between Art and Design, Italian meta-luxury lifestyle power-player Visionnaire chooses Design Miami and Art Basel for the official unveiling of Il Pavone.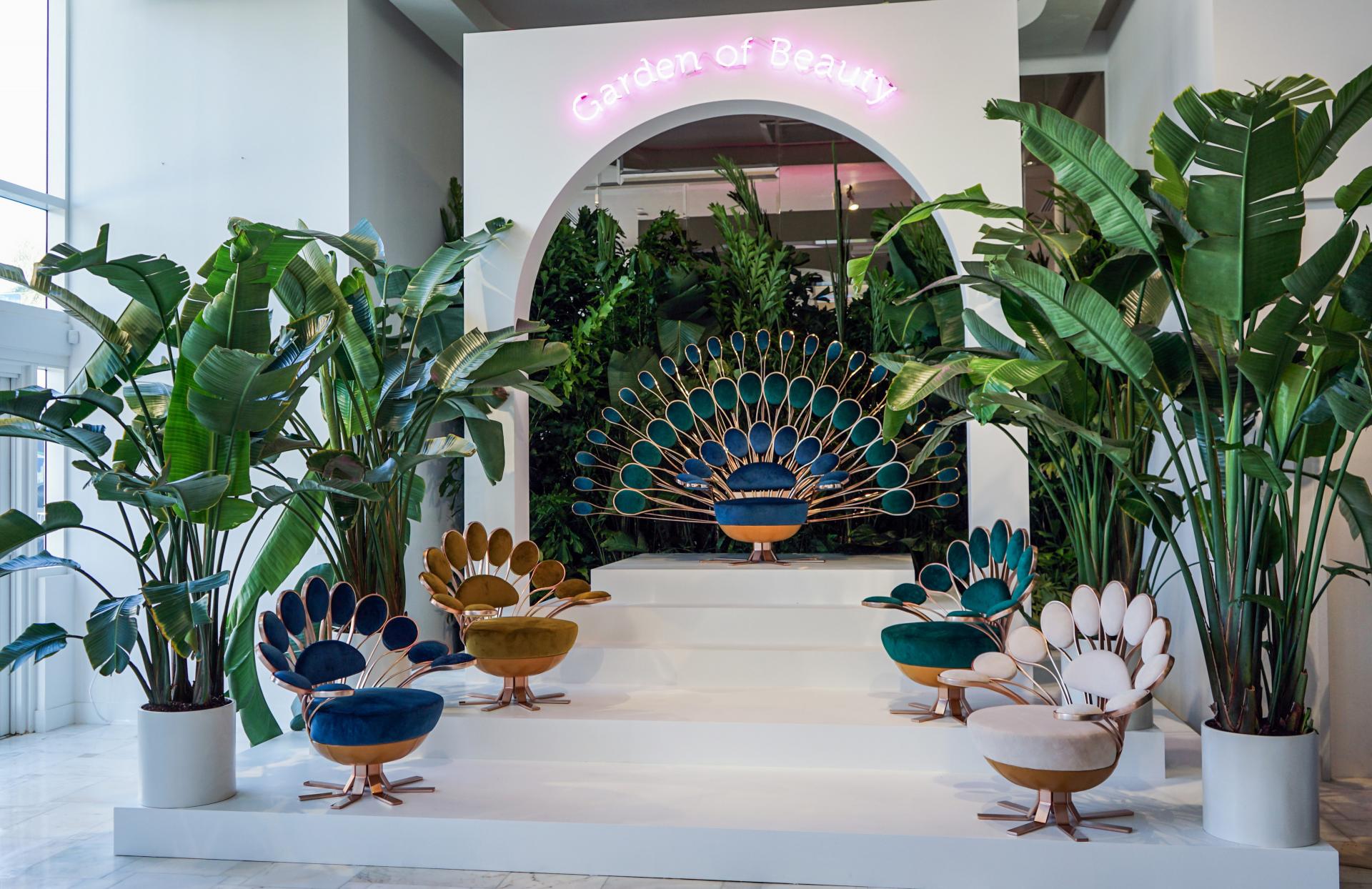 "Il Pavone (The peacock) is my allegory to Luxury. This majestic animal is never worried about survival: he doesn't hide or defend himself, he doesn't escape… His time and energy are used to display his Beauty…" says Marc Ange.
When tasked with designing a capsule collection for Visionnaire, Marc Ange drew inspiration from his recent travels to India, where multiple encounters with peacocks galvanized research on the animal's behavior and commitment to beauty. In consistency with the Designer's tendency for the extraordinary, his interpretation of Visionnaire's world comes to life through an allegorical display of the romantic animal, which, to him, embodies Visionnaire's unique eye for beauty and luxury.
"This collaboration presented the perfect opportunity to celebrate our anniversary, by showcasing a body of work that highlights the indispensable values Visionnaire is founded upon." - says Eleonore Cavalli, Artistic Director of Visionnaire - "Culture, Nature, Design, Object, Experience, Contamination, Uniqueness, Ingenuity, Luxury, Vision… these are the programmatic terms that represent our entrepreneurial spirit. Il Pavone, and its meticulously thought out intricacies and innuendos, will encapsulate these principles, and expose their true significance through a narrative and sensory experience."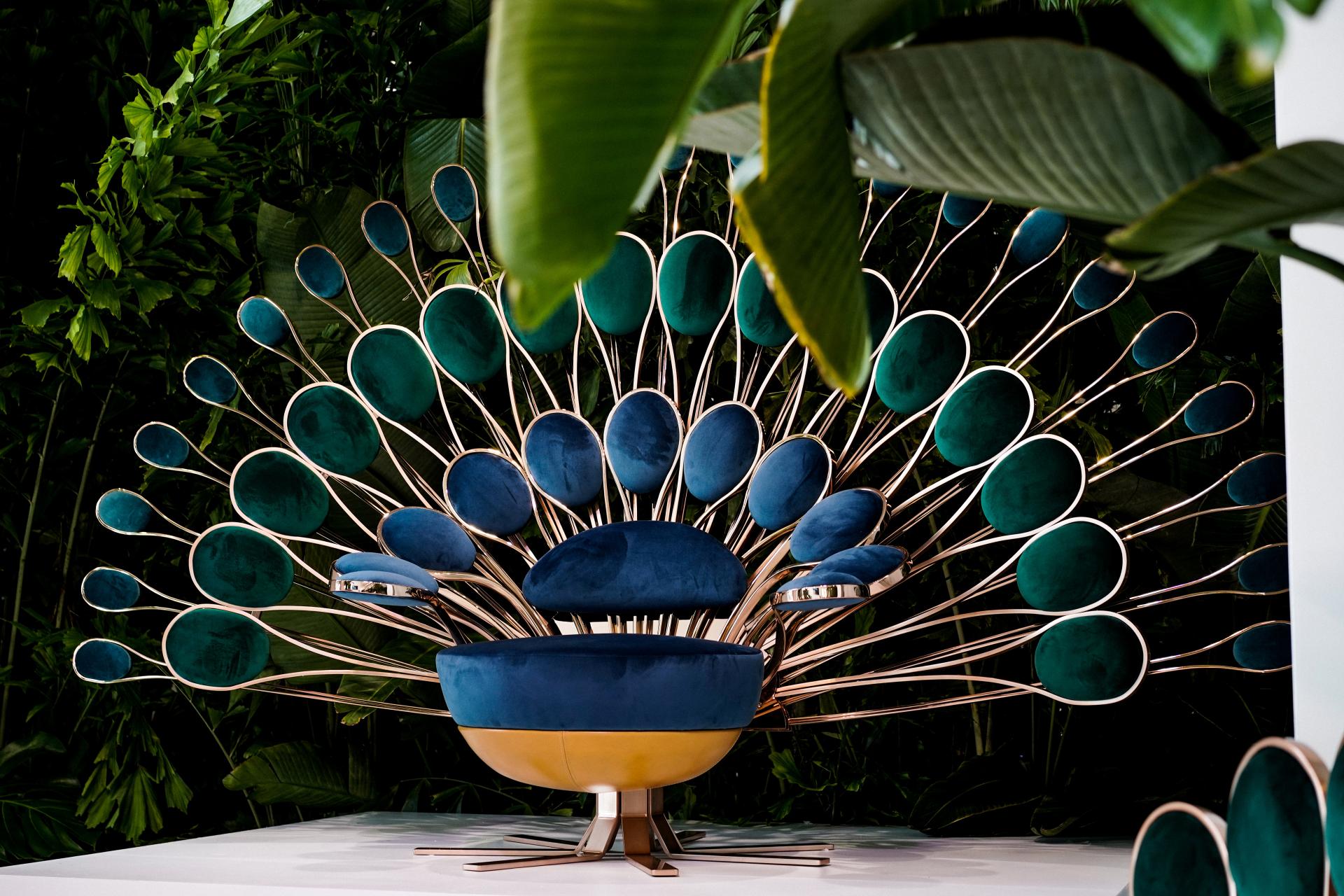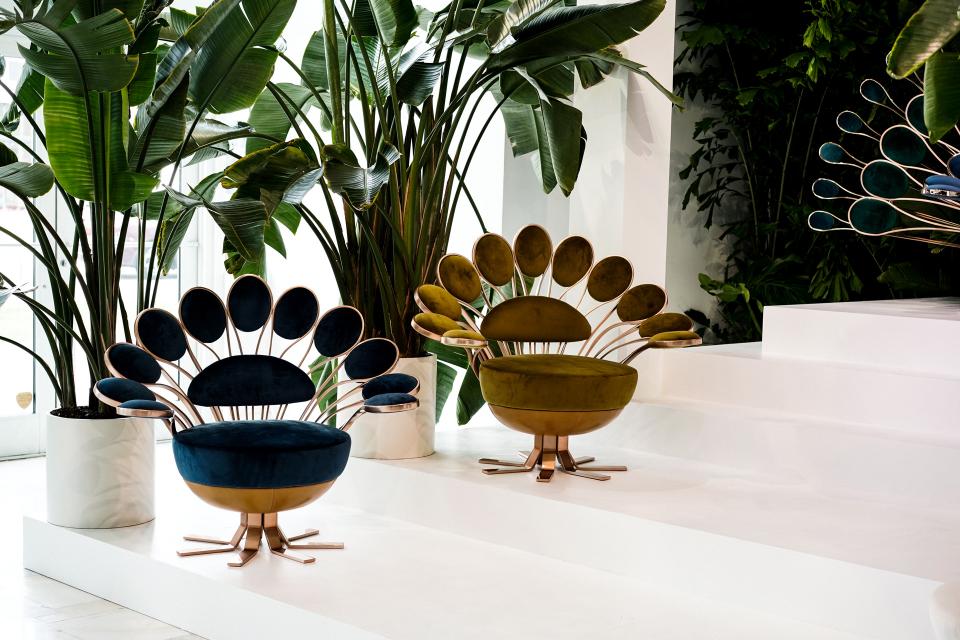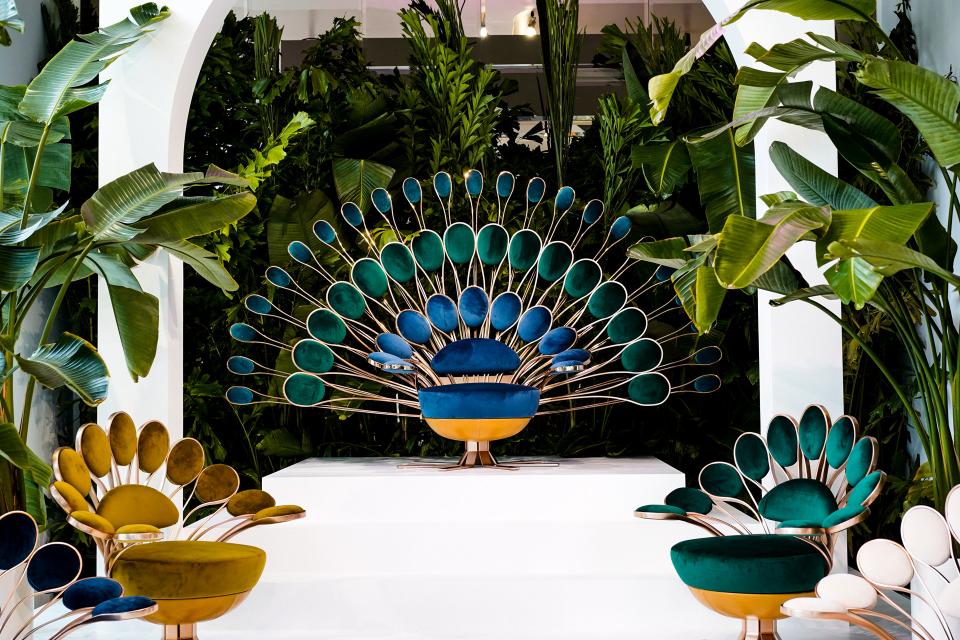 Haute Couture: Il Pavone Throne
Il Pavone is the King of the encounter. A limited edition throne created in the image of a peacock, notorious for its dramatic beauty and sublime plumage, the ceremonial chair will explore the idea of seduction without compromise. The collection draws inspiration from the Theory of Handicap, an evolutionary hypothesis which examines the costliness of advertised ornament in the animal kingdom. The peacock, with its wild and colorful feathers, leads a brazen and extravagant existence in the face of possible danger. The beautiful bird does not hide, and has no endowments in self defense; his kind chooses form over function, and vanity over sanctuary.
Marc Ange's ode to this innate beauty, Il Pavone, will use 70's vintage inspired camel leather, vibrant blue and green custom Visionnaire fabrics, and brass coated in regal bronze plating, to give life to an allegorical convergence of Art & Design.
Prêt-à-porter: Il Pavone Armchairs
Il Pavone Armchair series have been presented as a fleet of five, and an aesthetically conservative version of the solitaire throne. The armchairs shared the brilliant fabrics seen in the throne, but with a more contemporary silhouette. Together, the six pieces from the capsule collection creates the pinnacle of a verdure journey through the Garden of Beauty.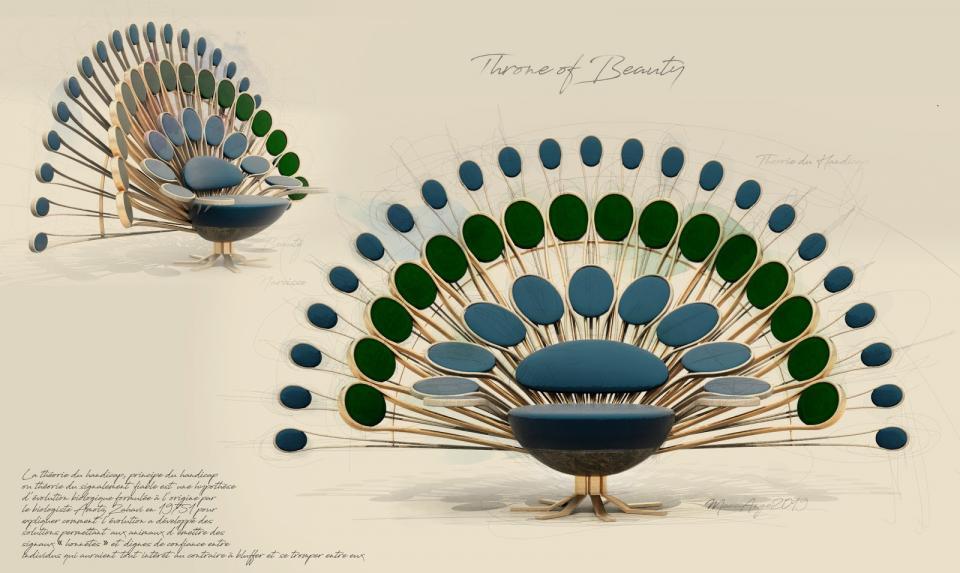 Marc Ange
Bridging the gap between Art & Design, Marc Ange's Extraordinary World revolves around the design of objects, places and furniture pieces. Born in Rome and raised in Paris, the designer's universe and creations are eternally balanced between real and unreal, perfection and mistake, harmony and chance, a beautiful incarnation of his subconscious