Turnberry Ocean Club Penthouse
Turnberry Ocean Club Penthouse
Living
Visionnaire introduces the sophisticated project in the Turnberry Ocean Club residence in Sunny Isles Beach.
Miami, Florida. Visionnaire introduces the sophisticated project in the Turnberry Ocean Club residence in Sunny Isles Beach, a modern glass tower with 54 floors featuring dream terraces, hydrotherapy spa, and a rooftop swimming pool where guests can admire the bountiful hues of colorful sunrises and sunsets whilst enjoying the ocean view. One of the tallest buildings on the Atlantic coast line, Turnberry Ocean Club was designed by American architects Carlos Zapata and Robert Swedroe.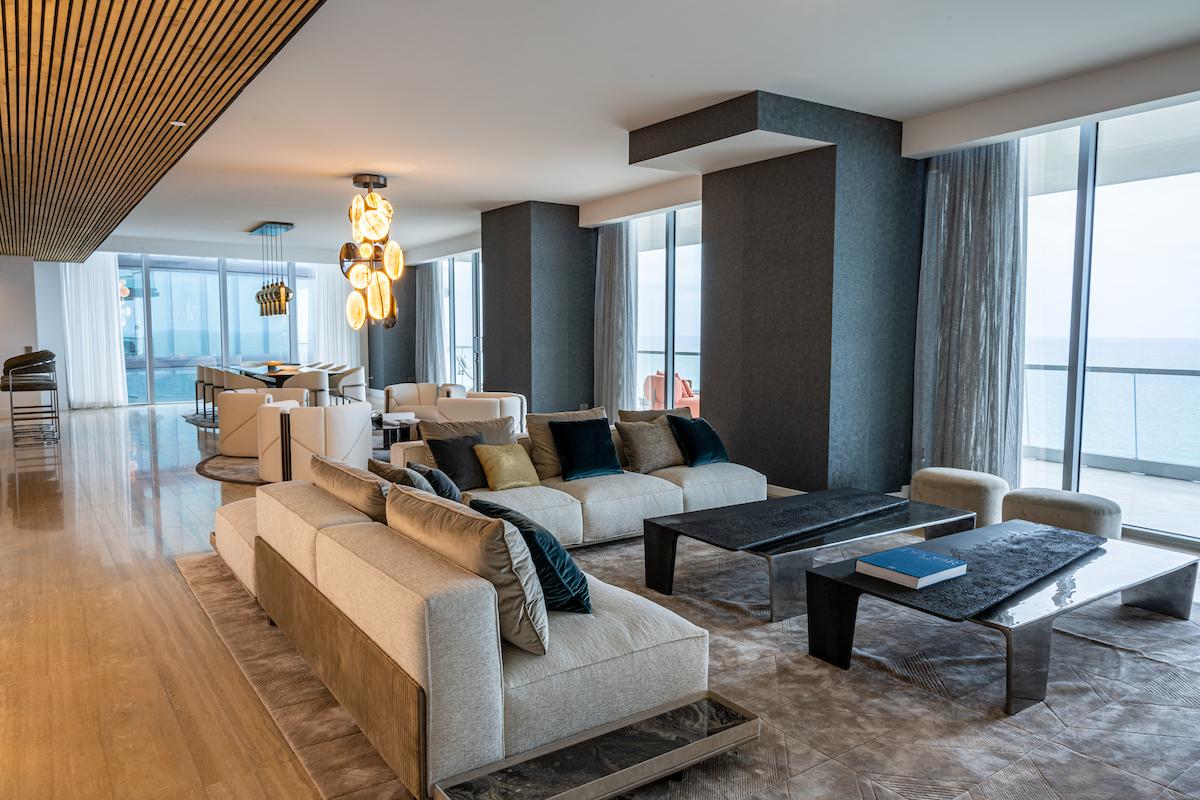 This project has demonstrated Visionnaire's ability to create meaningful one-of-a-kind interiors decorated by exclusive and precious objects. Every single product is unique, inimitable, yet reproducible thanks to constant technical research, experimentation with materials, juxtaposition by mixing various elements and the delicate hands of our craftsmen that perfect and define a new material composition. 
Light and airy apartment with panoramic windows enters into a dialogue with the ocean, enriching the place with a relaxed and fresh atmosphere. The dominant colors of this interior are natural: beige, off-white and brown, creating emotion, positive energy and a harmonious atmosphere.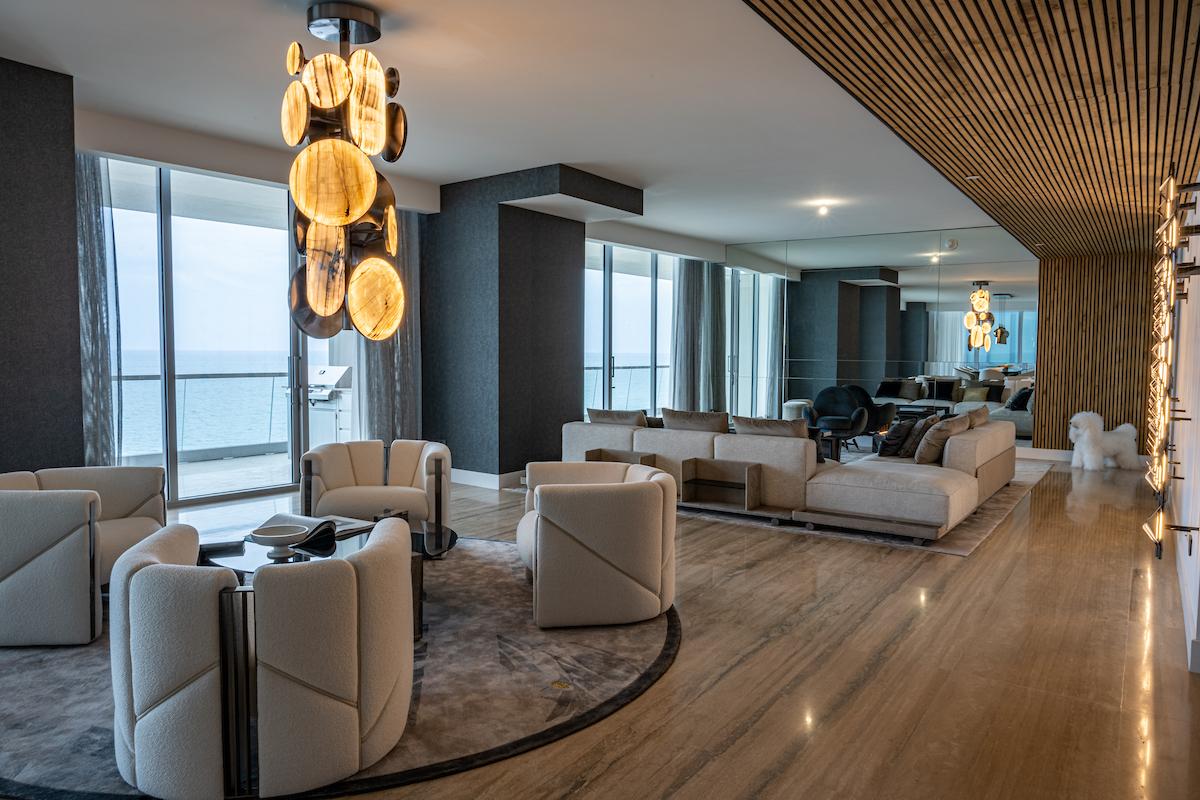 What makes this apartment special are the vibrant colors, for instance cheerful orange of the Ilario modular element or gradient green Cattedrale artworks from CaCO3. In these mosaics, single elements are disposed manually in a layer of fresh cement mortar, added with oxide in order to obtain different chromatic nuances. By movement or rotation, their different configurations generate multiple light effects making these artworks unique and alive.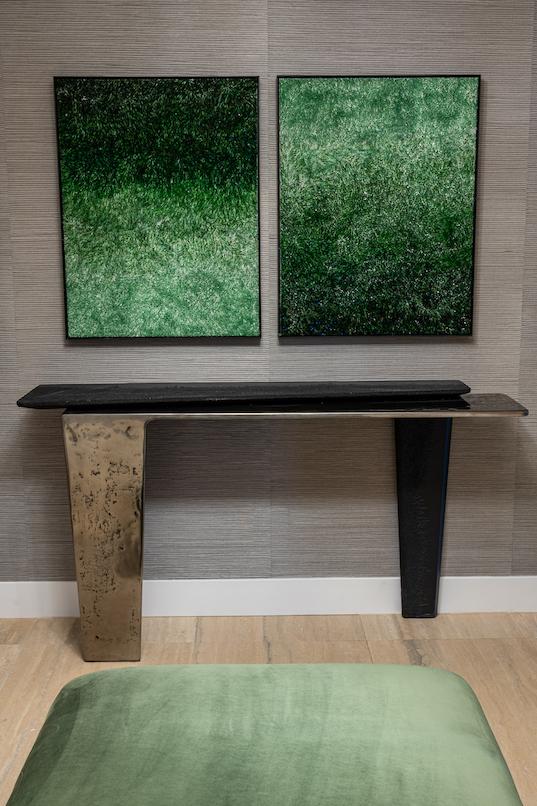 The protagonist of the living room is the Donovan Square modular sofa by La Conca, creating elegant and dynamic architectures at the same time. This model is arranged with double depth: an ample traditional seat and an ulterior space on the base behind the back, equipped with small bookcase modules with shelves and courtesy trays. Designed by Draga & Aurel, Lego low table, is the result of the embrace of geometric shapes, made by using concrete eroded by sea salt and metal elements. The masterpiece of architectural lighting, Sputnik wall lamps create a retro-futuristic composition that reminds us ​​how it is essential to explore the universe, have big dreams and ask important questions.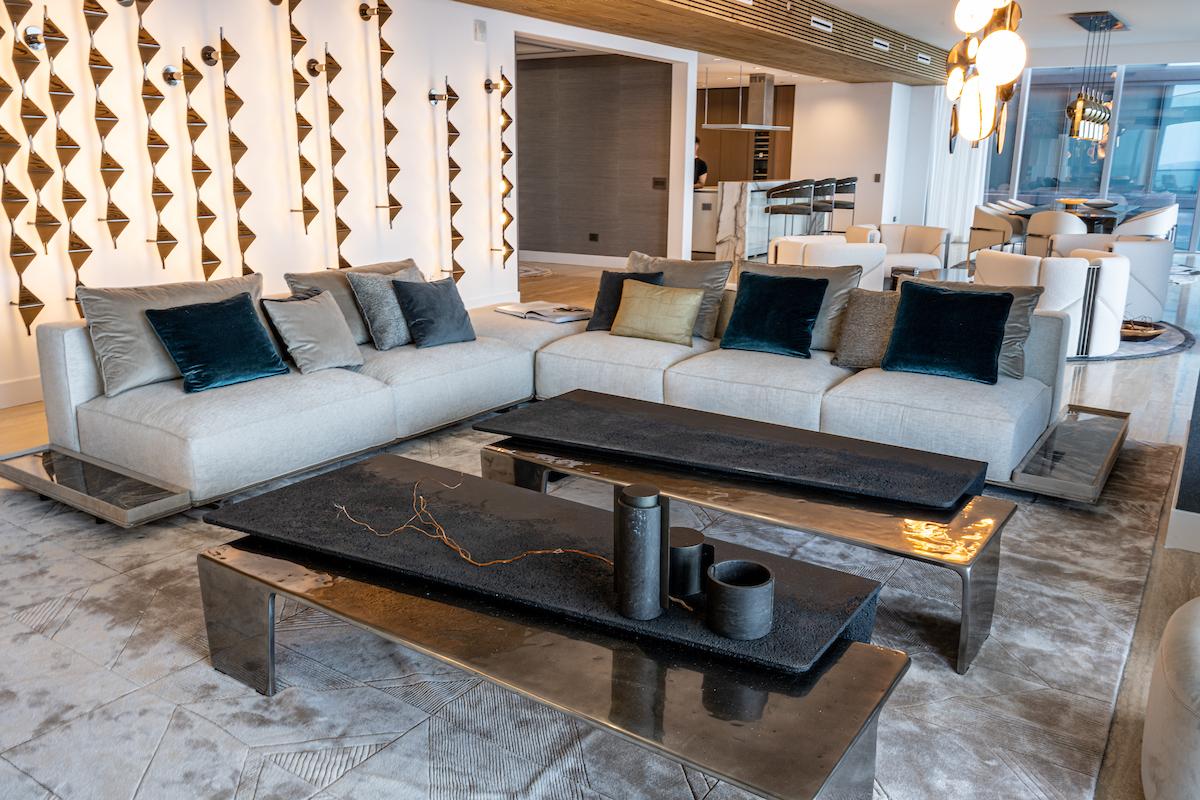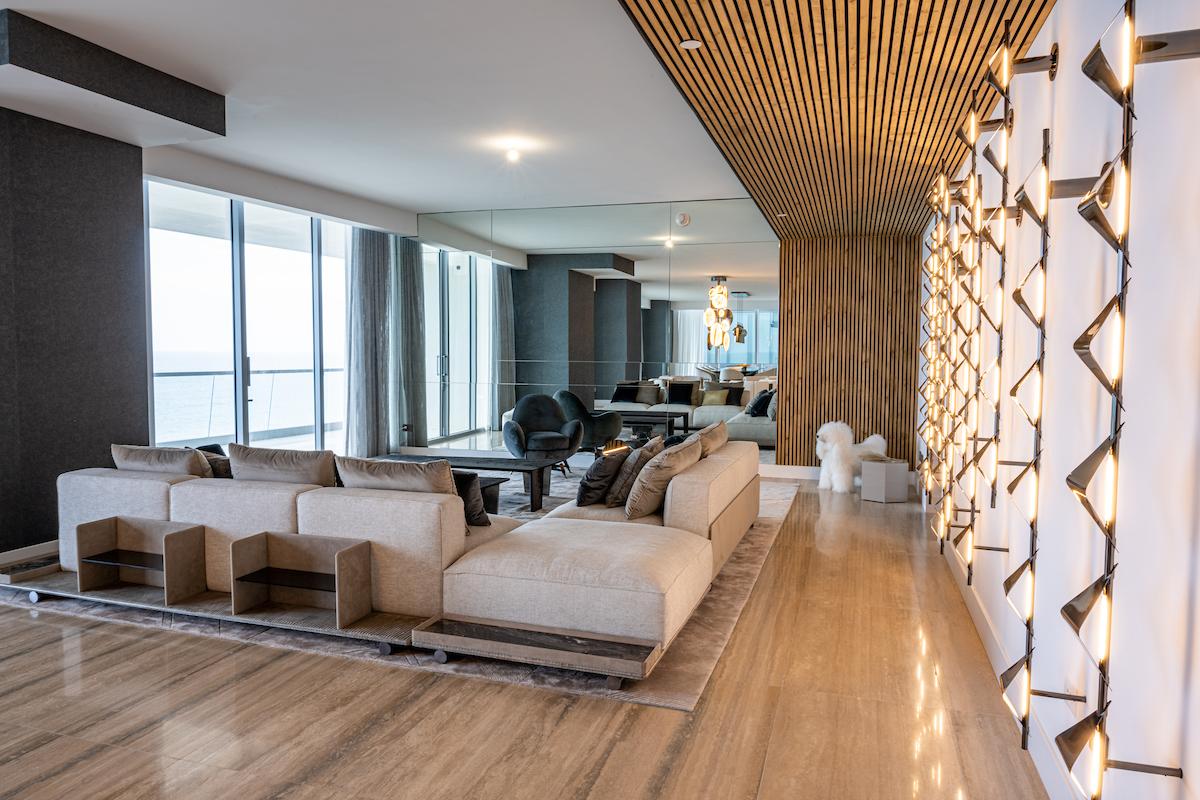 Passing from the living room to the dining area you can discover Admeto low table with a smoked glass and exclusive marble finished in a peculiar shaped base, designed by Marco Piva,  is eye catching especially when combined with semi-circular Petra armchairs and Rebel chandelier in onyx and steel. 
In the dining room, a Kerwan marble table by Alessandro la Spada, a mix of unexpected forms, is the center of attention. Kerwan stands out by its lower-impact characteristic, which is the curvature of the marble legs obtained from a single slab by exploiting the elastic capability of the stone instead of being cut from a block, avoiding a substantial waste of material. The table is surrounded by Cloud chairs with a V-shaped enveloping silhouette. As a lighting solution for this area, Bilbo lamps in glass with surface treatment of metal vaporization of antique brass, titanium fade and dark copper, designed by Marco Piva, balance great simplicity and strength, glass and metal, in a surprising synthesis.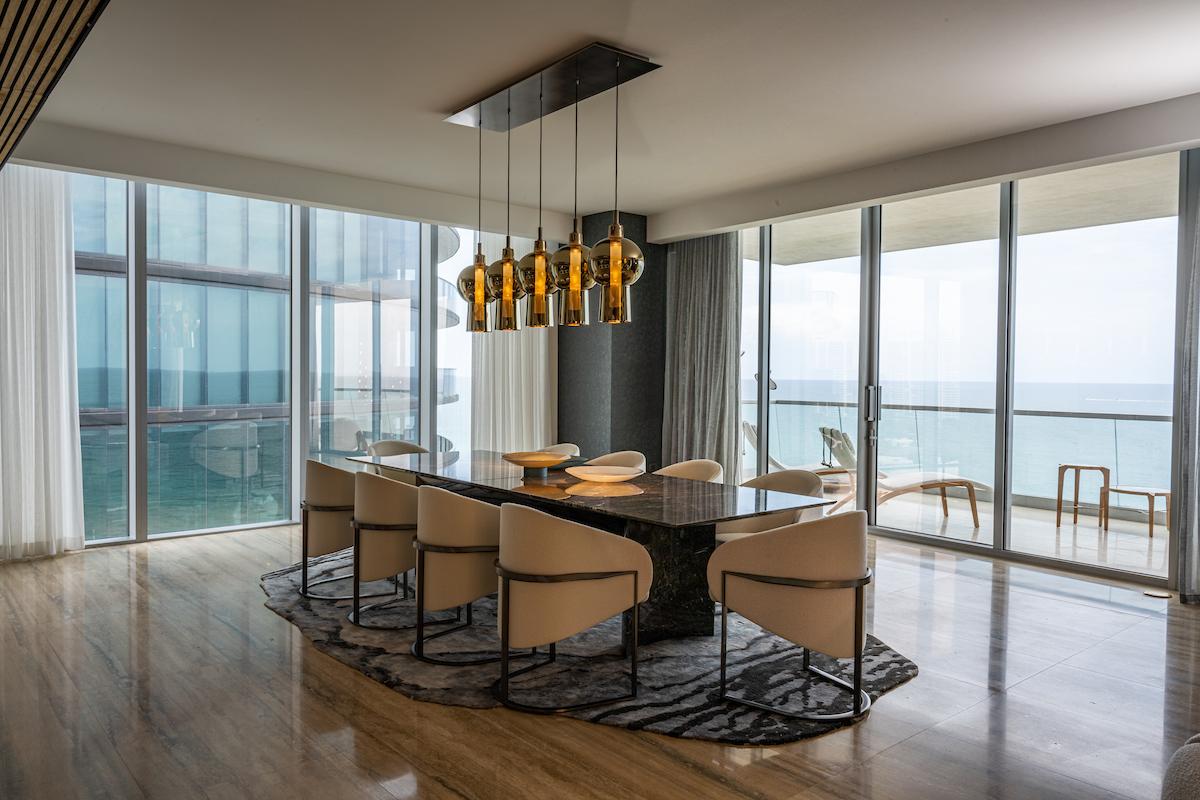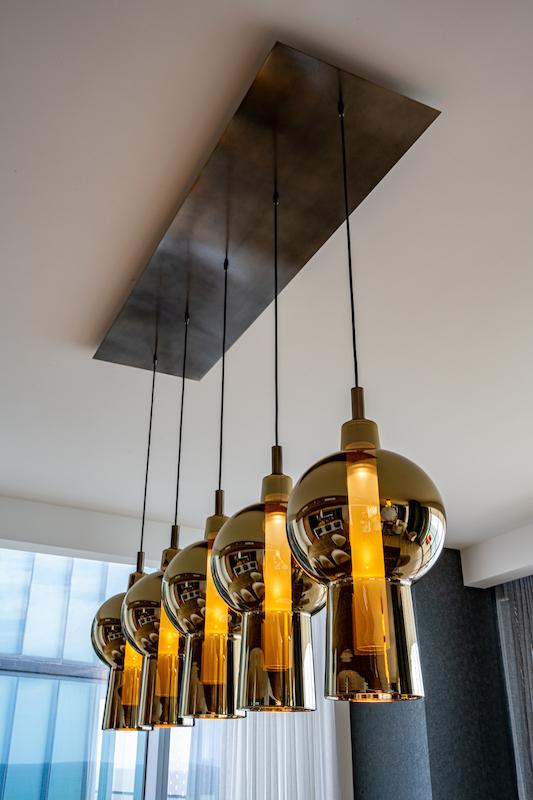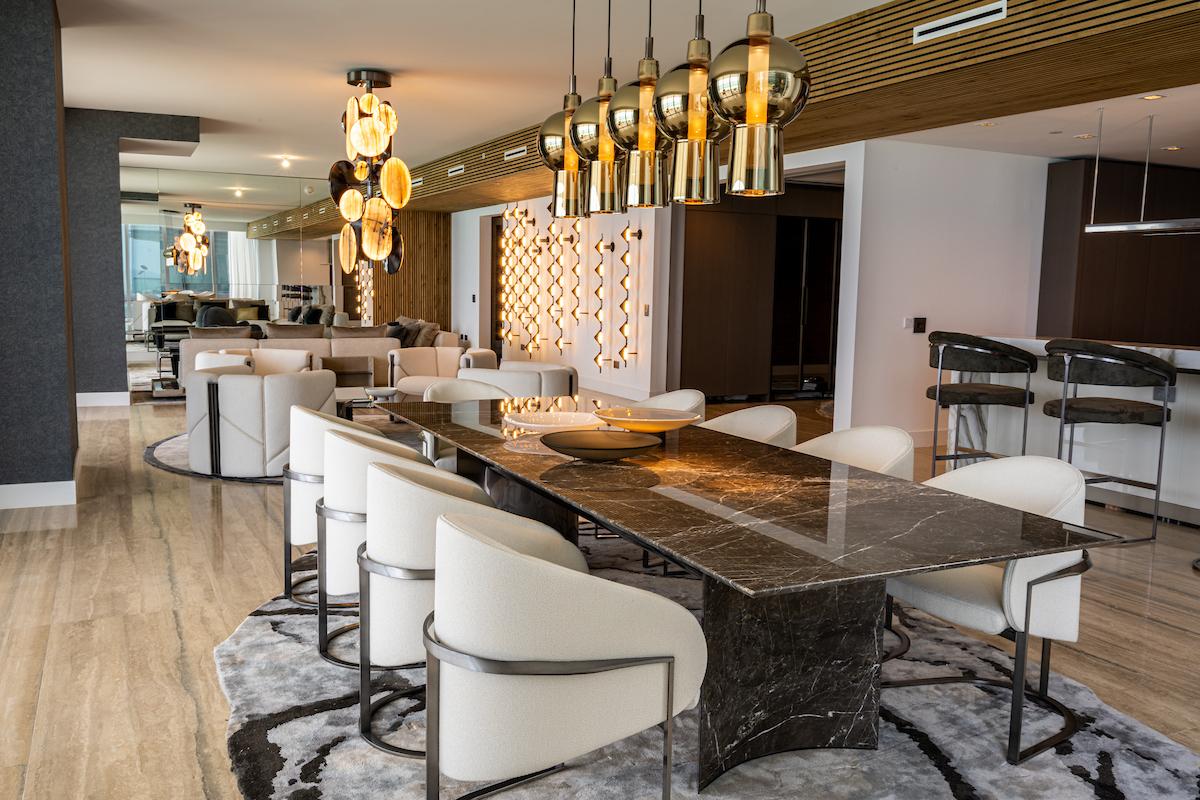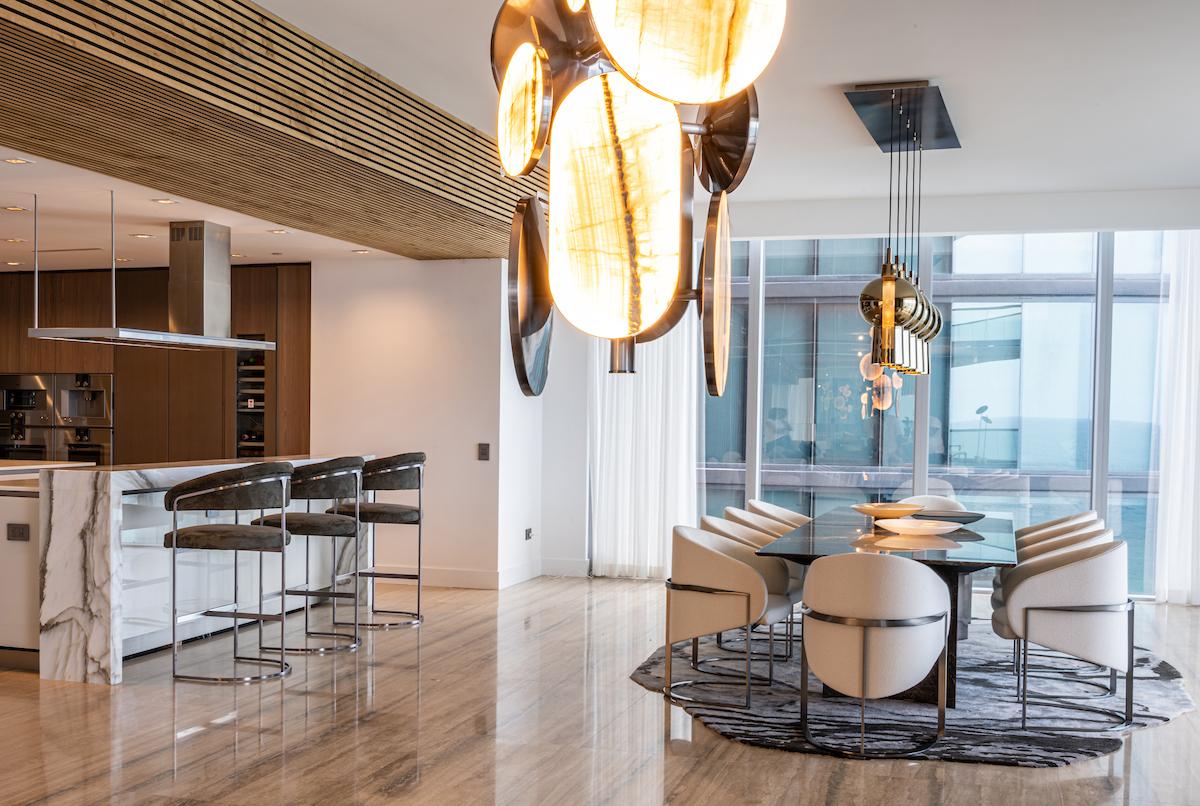 The perfect place to enjoy the spectacular ocean views is a terrace. Foil sunbeds and Ilario modular element from Caprice collection by m2atelier represent an escape from monotony and boredom. Caprice is a collection that reminds us how important it is to live with passion, and a bit of nonchalance.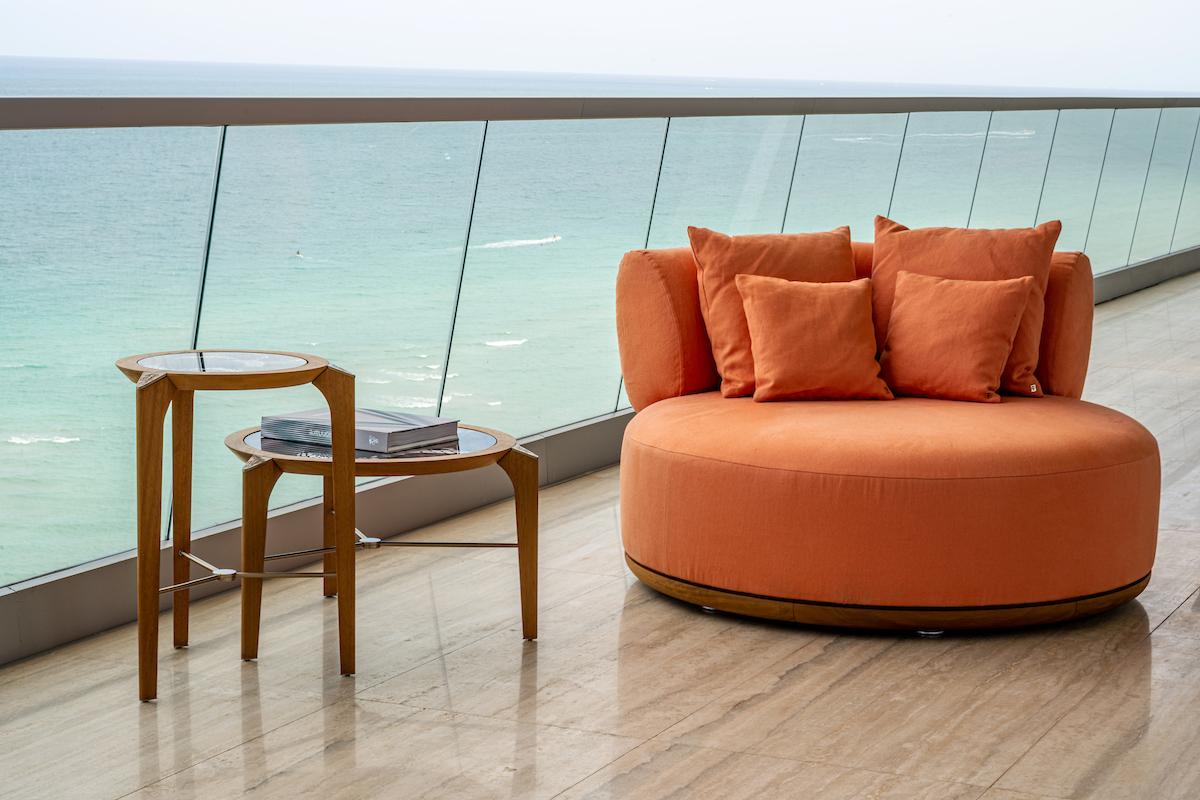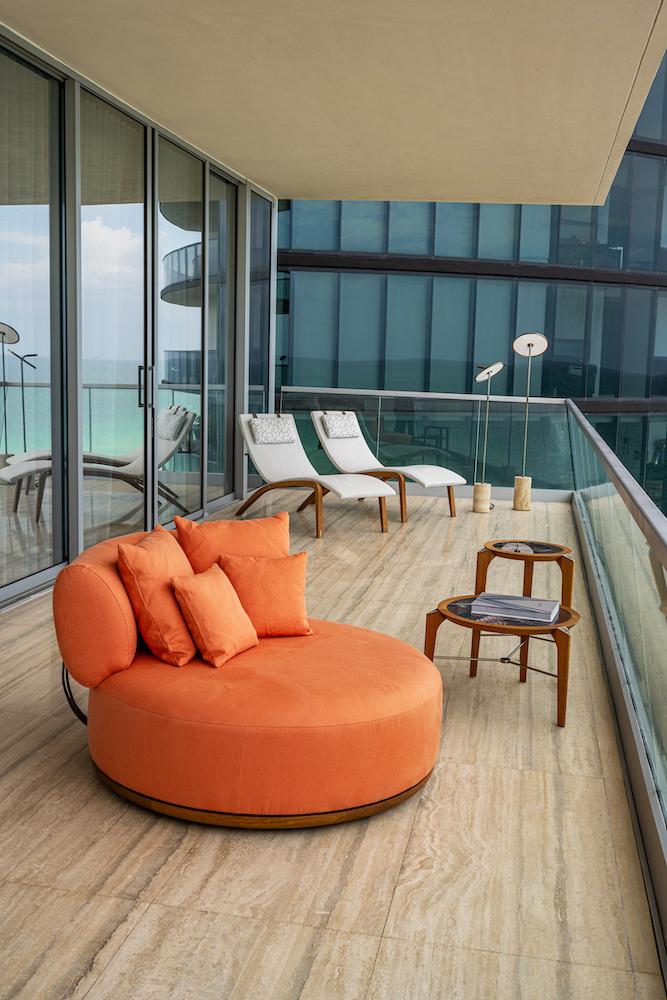 The next chapter is a bedroom with an Emotion Large bed, with a decorative headboard divided into padded modules of various sizes enriched with Mondrian "satin-finish" inserts.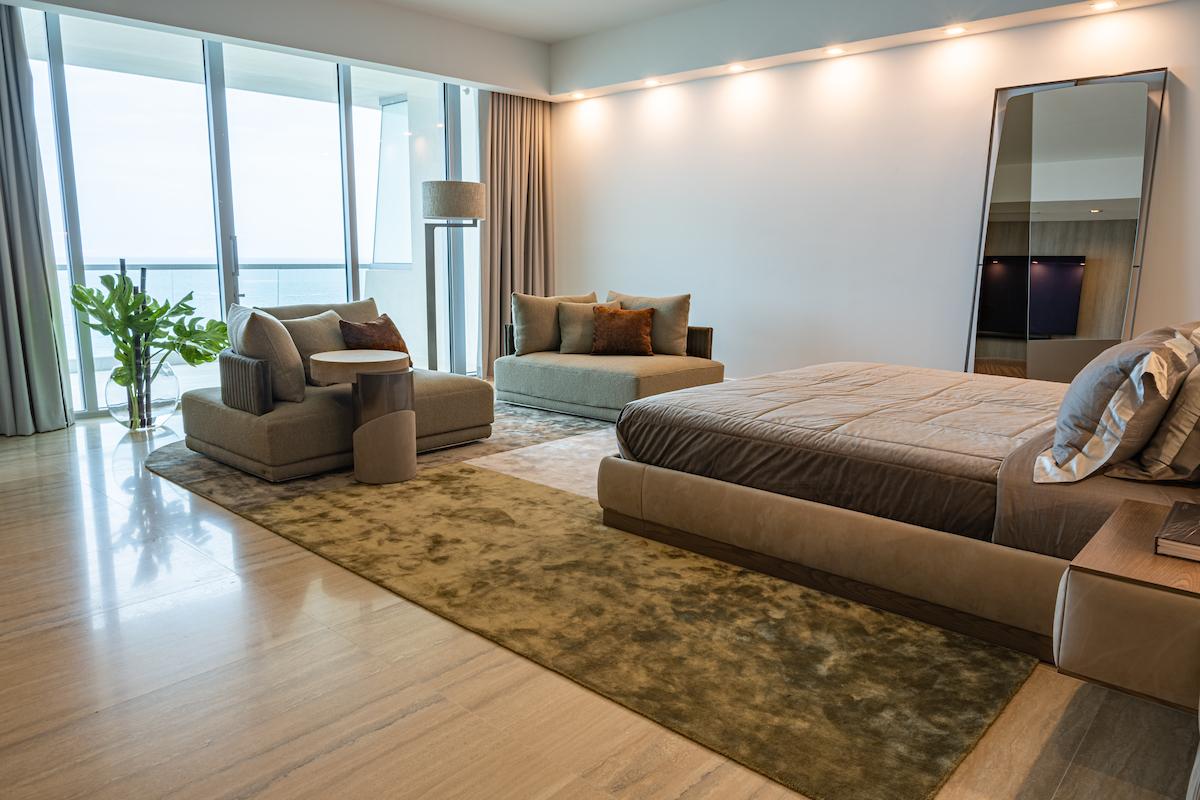 Interpretation of contemporary beauty in a distinctive way with the highest aesthetic standards and outstanding workmanship is in the Visionnaire's DNA and these characteristics make the company an ideal partner for bespoke proposals in residential and contract applications.